Indexing Turntable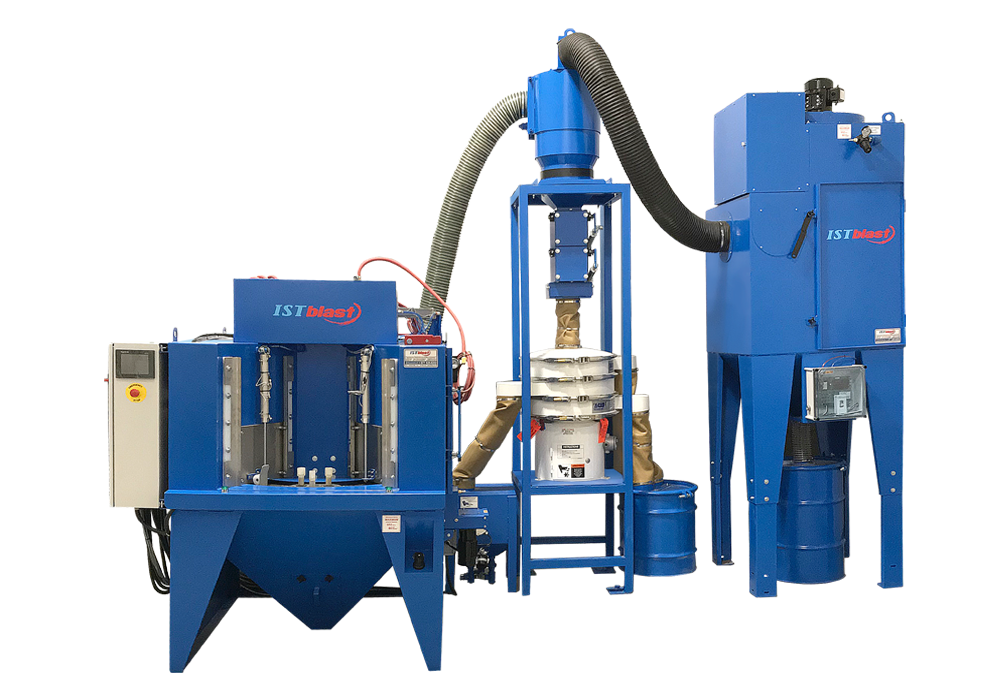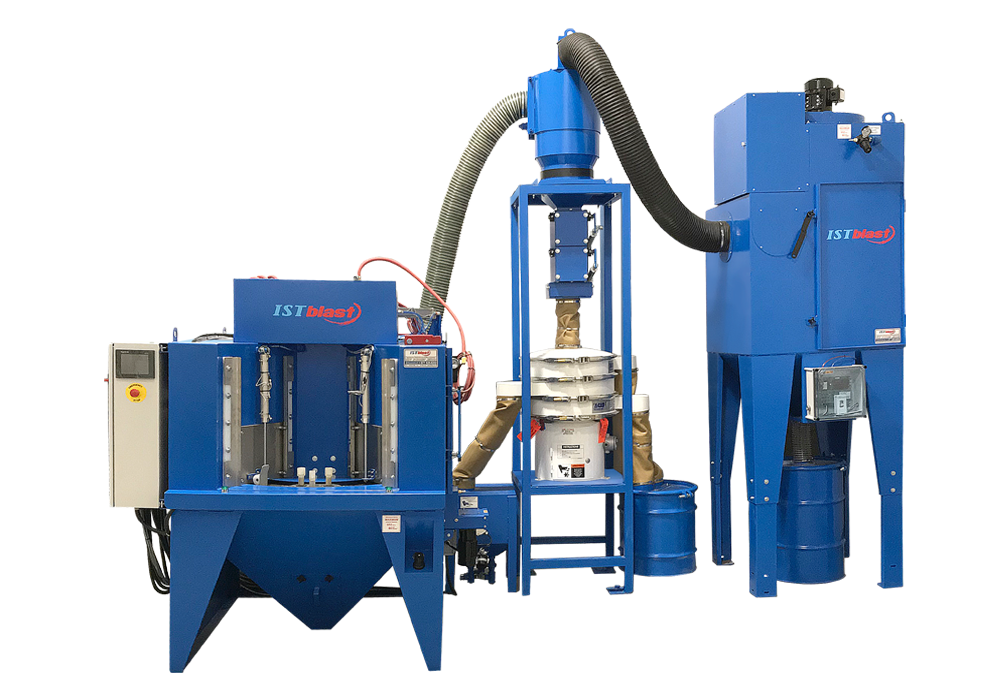 Indexing Turntables are the ideal sandblasting system for the continuous production flow of identical small- and medium-sized parts. This system significantly increases the throughput of repetitive blast patterns, and also integrates perfectly with automated fabrication facilities utilizing robotic arms to move parts along the production line.
ADVANTAGES OF OUR INDEXING TURNTABLES
All-in-one process that blasts and cleans parts within one complete circumference.
Precise positioning of parts on a rotating satellite support ensures predictive and repetitive process quality.
The operator stands on a single point of the loading and unloading station, which reduces time wasted moving around the shop.
Loading/unloading procedures can be automated with robotic arms for an operator-free process.
Equipment is low-maintenance and has a small footprint.
Available with either suction or pressure system.
HOW IT WORKS
The system consists of four stations:
The loading/unloading station allows the operator or robotic arm to remove treated parts and install untreated parts on a satellite support.
The waiting station acts as a dust barrier between the operator and the sandblasting station.
The sandblasting station is where the parts are exposed to an abrasive blast stream.
The air cleaning station is equipped with dust-off nozzles which remove any remaining dust from parts before unloading.
Parts can be loaded/unloaded manually by the operator, or automated with the addition of a material handling robot.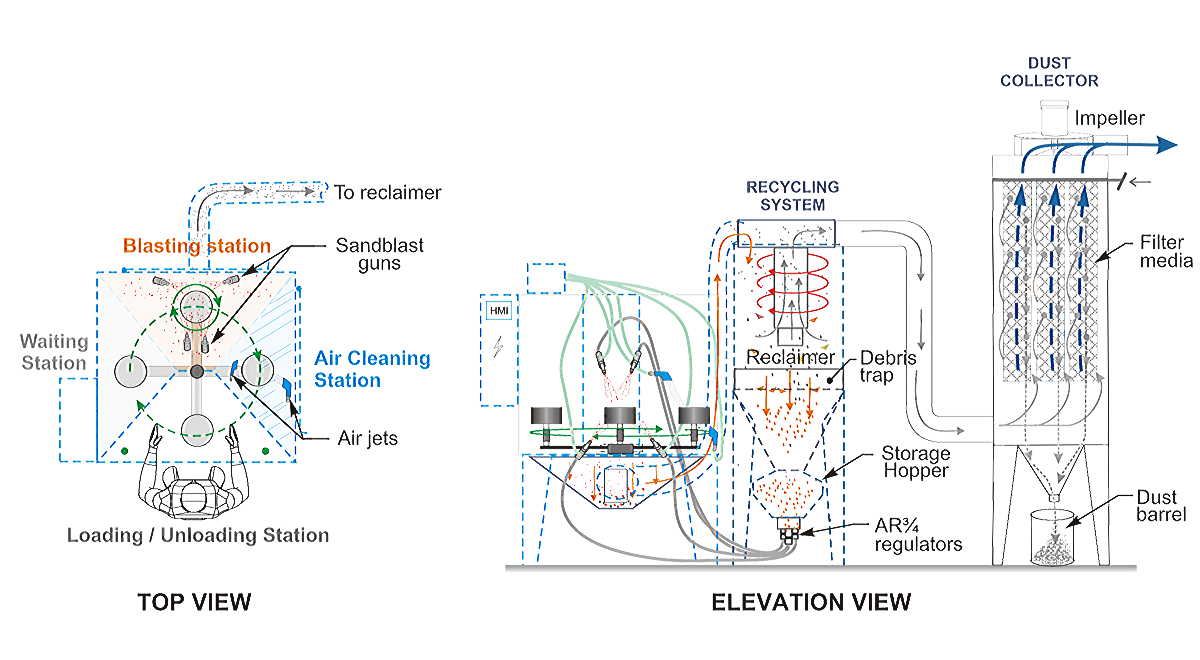 NOZZLE ARRANGEMENTS
The size and complexity of the parts usually define which nozzle arrangement is ideal for the application:
Fixed nozzles.
Oscillating nozzles on a vertical or horizontal axis.
Rotary head nozzles.
Nozzle mounted on a robotic arm.
KEY FEATURES
Production Yield: The system can be designed with 4 or 8 satellites, each of which can move from one to a few parts at a time (usually up to 3), depending on the size and complexity of the parts as well as the constraints and requirements of the process.
Heavy-Duty Rotating Table: The rotating table is mounted on heavy-duty shafts which can handle a significant load.
Custom Design and Fabrication: Each system is tailored to the customer's specifications to address all process constraints and for optimal results and productivity.
Personalized Process: Personalize your process by varying abrasive media, blast nozzle size, blasting pressure, table rotation speed, and blasting cycle time.
Fully Automated Cycle: Process sequences are controlled by PLC and interfaced with an intuitive HMI touch panel.
Baghouse Dust Collector: Choose from a range of high-efficiency baghouse dust collectors for both optimal blasting performance and minimizing wear and tear on critical components.
Media Reclaiming System: Cyclonic separation of contaminated abrasive media for optimal performance – dust and by-products are diverted to the dust collector.
Electricity: Available in all voltages and frequencies.
Compliance: Design and door switches comply with OSHA requirements and most local safety jurisdictions.
Parts Cleaning: Automatic blow-off cycle to remove all dust and contaminants from the freshly-blasted parts.
Liner Protection: Rubber lining protection on the inner wall, rotating table, and media reclaimer for extended service life (Linatech).
OPTIONAL FEATURES
Tower Status Indicator Lights: Stack lights offer modular stackable components that provide illuminated and audible status indication for machines, systems and process.
Baghouse Dust Collector Optional Package: Improve your standard dust collector efficiency and performance with the addition of an automatic cleaning procedure on filter media, a vertical or horizontal muffler, and a sealed dust collection drum.
Cartridge-Type Dust Collector Upgrade: Increase your overall process quality and efficiency with a fully-equipped cartridge dust collector able to capture up to 99.9% of particles down to 5 µm.
HEPA Filters: Our dust collectors are designed to fit a HEPA filter when the process requires it, which can capture 99.98% of particles down to 0.3 µm.
Parts Handling Robots: Automate tedious and unsafe parts handling tasks with a dedicated robotic arm.
Loading/Unloading System: Facilitate the loading/unloading procedure for heavy parts while preventing injuries in the workspace.
Remote PLC I/O: Benefit from remote access assistance on the PLC, allowing for instant troubleshooting and easy software updates.
MagnaValve Abrasive Regulator: The MagnaValve and controller provide an accurate regulation of ferrous and non-ferrous media in shot peening and blast cleaning applications where accurate and repeatable flow rates are desired.
SWECO Vibratory Media Classification System: The SWECO particle separation and sifting system provides an accurate media classification and sizing for precise peening or blast cleaning applications.