Rotary Table Blaster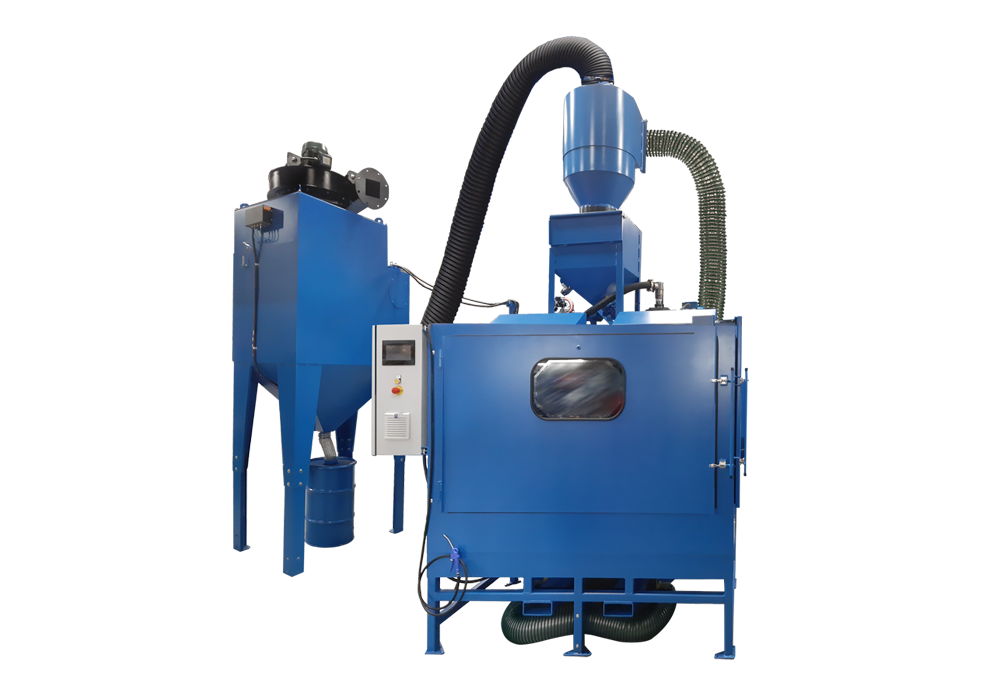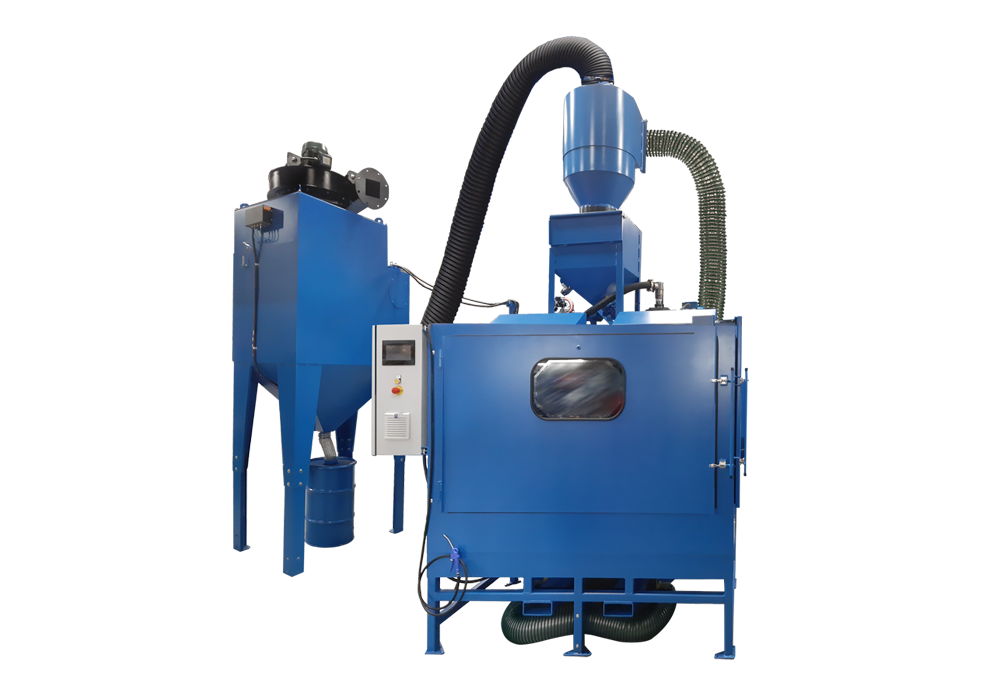 Rotary Table Blasters are inexpensive sandblast systems designed to process a small batch of parts of various shapes and sizes. The key advantages of this system include its simple operating principle and its flexibility, since workpieces within a batch can differ in shape and size.
ADVANTAGES OF OUR ROTARY TABLE SHOT BLASTING MACHINE
Low initial cost.
Equipment has a small footprint.
Simple operating principle.
Can process several pieces at a time (batch cycle).
Fully automated and tuneable process.
Low-maintenance.
Easy-to-operate automated system, simply load the part and start the timer.
HOW IT WORKS
Parts are loaded on a motorized turntable and exposed to the blast stream for a predetermined cycle time. Nozzles can be fixed on a support, a moving shaft, or mounted on a rotary head to provide optimal blast coverage all over the workpiece surface.


NOZZLE ARRANGEMENTS
The parts' size and complexity usually define which nozzle arrangement is ideal for the application:
Fixed nozzles.
Oscillating nozzles on a vertical or horizontal axis.
Rotary head nozzles.
KEY FEATURES
Custom Design and Fabrication: Each system is tailored to the customer's specifications to address all process constraints and for optimal results and productivity.
Personalized Process: Personalize your process by varying abrasive media, blast nozzle size, blasting pressure, table rotation speed, and blasting cycle time.
Fully Automated Cycle: Process sequences are controlled by PLC and interfaced with an intuitive HMI touch panel.
Baghouse Dust Collector: Choose from a range of high-efficiency baghouse dust collectors for both optimal blasting performance and minimizing wear and tear on critical components.
Media Reclaiming System: Cyclonic separation of contaminated abrasive media for optimal performance – dust and by-products are diverted to the dust collector.
Electricity: Available in all voltages and frequencies.
Compliance: Design and door switches comply with OSHA requirements and most local safety jurisdictions.
Parts Cleaning: Automatic blow-off cycle to remove all dust and contaminants from the freshly-blasted parts.
Liner Protection: Rubber lining protection on the inner wall, rotating table, and media reclaimer for extended service life (Linatech).
OPTIONAL FEATURES
Tower Status Indicator Lights: Stack lights offer modular stackable components that provide illuminated and audible status indication for machines, systems and process.
Baghouse Dust Collector Optional Package: Improve your standard dust collector efficiency and performance with the addition of an automatic cleaning procedure on filter media, a vertical or horizontal muffler, and a sealed dust collection drum.
Cartridge-Type Dust Collector Upgrade: Increase your overall process quality and efficiency with a fully-equipped cartridge dust collector able to capture up to 99.9% of particles down to 5 µm.
HEPA Filters: Our dust collectors are designed to fit a HEPA filter when the process requires it, which can capture 99.98% of particles down to 0.3 µm.
Parts Handling Robots: Automate tedious and unsafe parts handling tasks with a dedicated robotic arm.
Loading/Unloading System: Facilitate the loading/unloading procedure for heavy parts while preventing injuries in the workspace.
Remote PLC I/O: Benefit from remote access assistance on the PLC, allowing for instant troubleshooting and easy software updates.
MagnaValve Abrasive Regulator: The MagnaValve and controller provide an accurate regulation of ferrous and non-ferrous media in shot peening and blast cleaning applications where accurate and repeatable flow rates are desired.
SWECO Vibratory Media Classification System: The SWECO particle separation and sifting system provides an accurate media classification and sizing for precise peening or blast cleaning applications.