M Series – Industrial Sandblasting Cabinets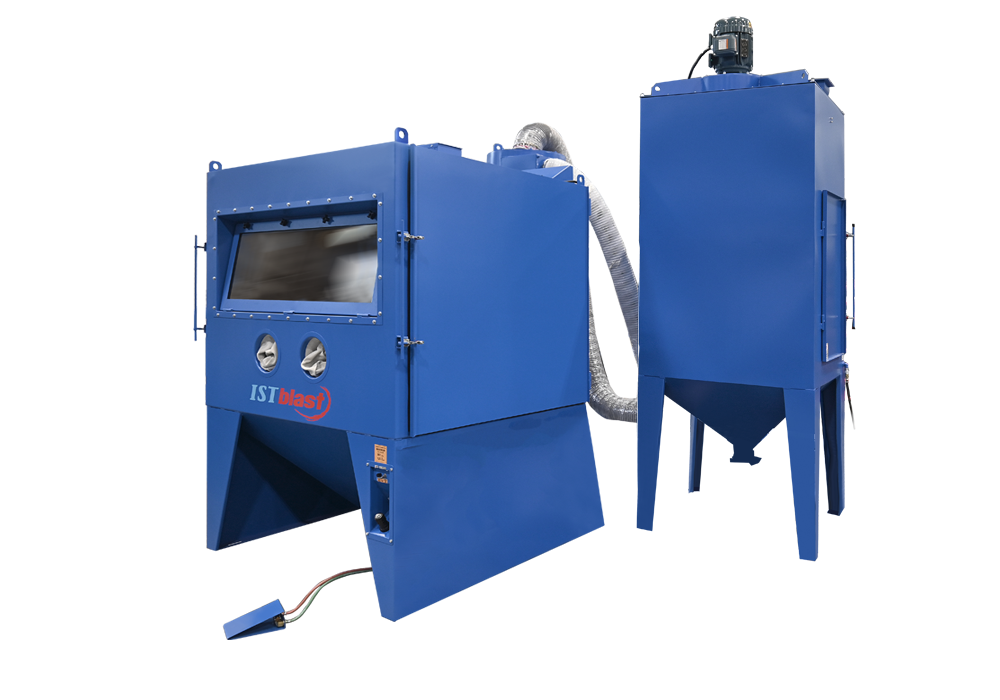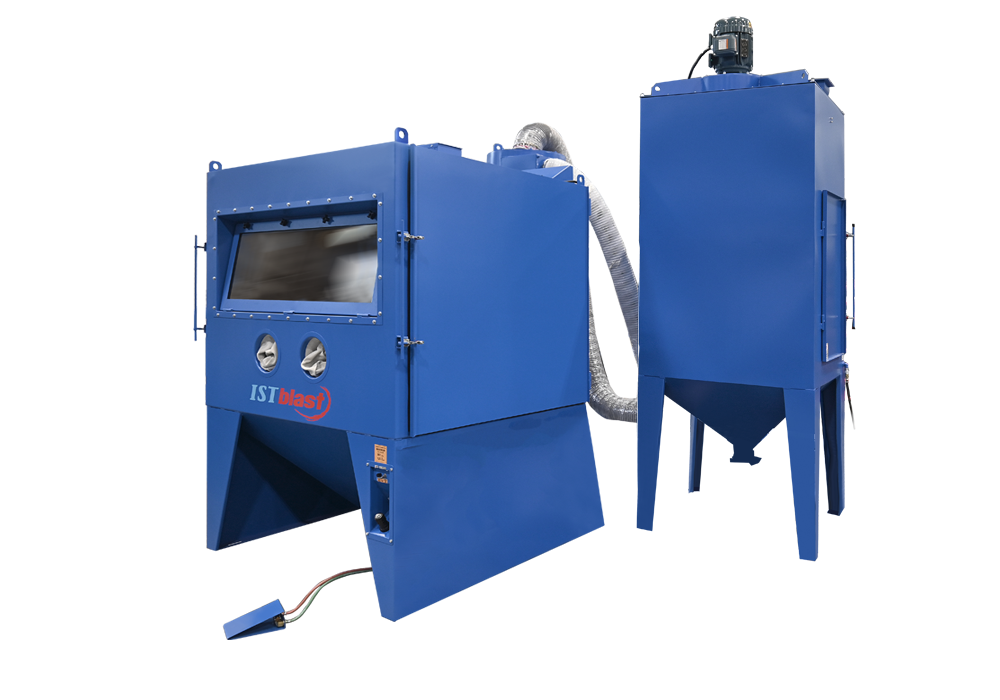 Looking for even more power and performance?
Industrial M Series Sandblasting Cabinets are the most powerful and sophisticated cabinets available on the market today. Built with strong 12-gauge steel and equipped with cutting-edge technologies, the Industrial M Series can accomplish any heavy-duty tasks you can imagine.
Fully customizable in sizes and configurations, Industrial M Series cabinets are delivered with powerful DCM Series high-efficiency impeller dust collector and tunable media reclaimer. For better ergonomics and performance,  various optional features can be added.
Depending on your application, you can choose between two systems to reach the best output and lower your operation costs.
SUCTION CABINET
An economical suction-type cabinet is ideal for everyday maintenance and light-duty jobs. Compressed air (released by operator pedal or trigger gun) enters gun and creates a vacuum that draws and expels abrasive onto the workpiece.
Blasting uses the Venturi principle of sucking media from a hopper. Air jet diameter is half the interior diameter of the nozzle and, as the air stream passes through both, it creates suction which pull the media from the hopper into the air stream. Media acceleration distance from nozzle to workpiece is short (approximately 4 to 14 inches). The suction system works fine and can continuously blast as long as there is blasting media in the hopper.
However, suction systems have limits on suction capacity and propelling heavier media. Very heavy blasting media (larger steel media) cannot be conveyed into air stream with suction blasting. Nonetheless, most industrial blast cabinets use suction systems due to their lower cost and because they work well for most applications.
HOW IT WORKS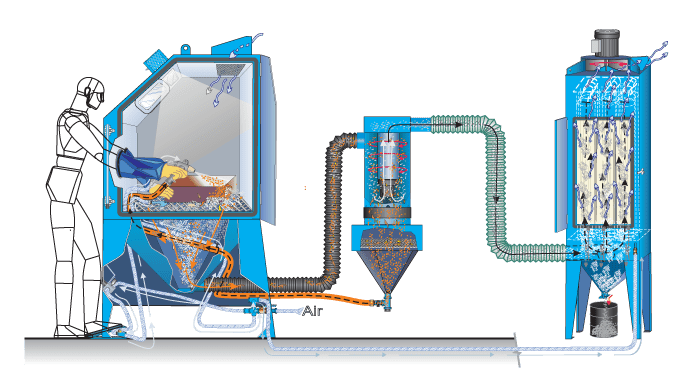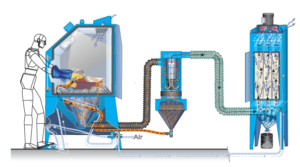 PRESSURE CABINET
For rapid results in hard-to-reach areas, high performance pressure-type cabinets have 1.3 cubic foot pressure vessel that forces media through blasting hose and nozzle.
The pressure pot contains media that pressurizes the pot as it is energized with compressed air. When air/media mix is released from the pot, it accelerates through at least 5-10 feet of hose and then picks up even more speed as it travels through the Venturi of the nozzle. The acceleration rates of air/media mix are much higher in pressure blasting than suction blasting.
When pressure pot empties of media, it must be depressurized to be refilled with media. Pressure blasting systems are much more productive than suction systems. Additionally, pressure systems can blast all types of media regardless of weight or size, but require a minimum of 25 psi to operate.
HOW IT WORKS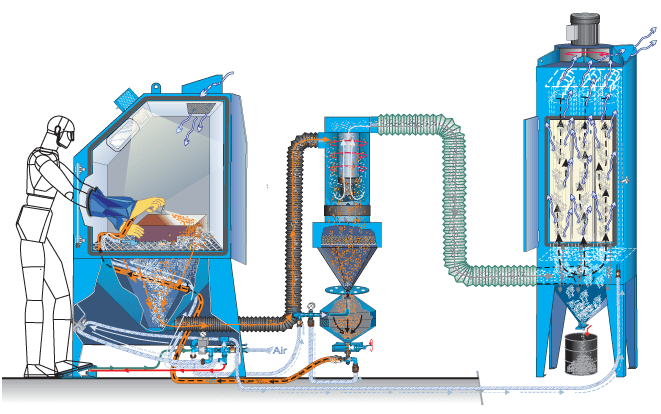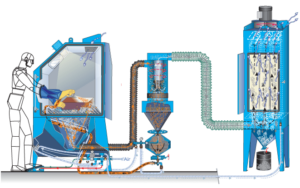 CABINETS WITH MULTIPLE WORKING STATIONS
Industrial M Series Sandblasting Cabinets can be designed to accommodate large workpieces or more than one user operating simultaneously. Depending on the size of the multi-operator cabinet, it is possible to integrate a pneumatic media reclaiming system underneath the cabinet hopper in order to recover and recycle media residues just like standard size, single-operator blast cabinet.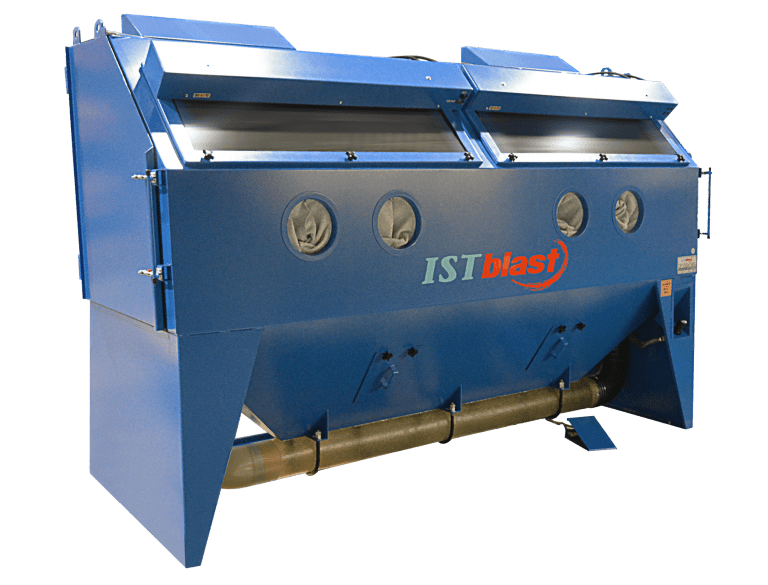 To learn more on the advantages of multi-operator blast cabinet, click here to download the product literature.
MARKETS
General Manufacturing
Aerospace & Aviation
Mechanical Workshop & Bodyshop
Machine & Repair Shop
Transport & Automotive
Metal Forming & Finishing
KEY FEATURES
Dust collector featuring energy-saving air-filtration system that captures 99.5% of all particles three (3) microns or larger
Impeller mounted on dust collector rather than cabinet to prevent abrasive wear to fan housing and impeller
1.3 cubic foot pressure vessel minimizes refilling time and seals automatically for fast, easy startup (pressure cabinets only)
Tunable media reclaimer can be adjusted to control media size and contamination level
Easily adjustable tuning band requires no tools and controls fine size extracted from blast media
Rigid, dual-panel doors stand up to abrasives and seal more tightly than single-panel doors
Optional safety-door switches prevent accidental blasting when doors are open
Self-adjusting door latch ensures continued tight seal as door gaskets age
Simple, pneumatic controls deliver greater reliability than electric controls employing limit switches and solenoids that often stick and burn
Wide foot treadle enables operation with either foot (optional no-contact pedal available)
Air blow gun inside cabinet
Can be operated with either DCM100-330 bag-type, or DCM600-1800 cartridge-type motorized dust collectors for improved efficiency and durability
Complies with OSHA USA requirements