Mechanical Loading Recovery System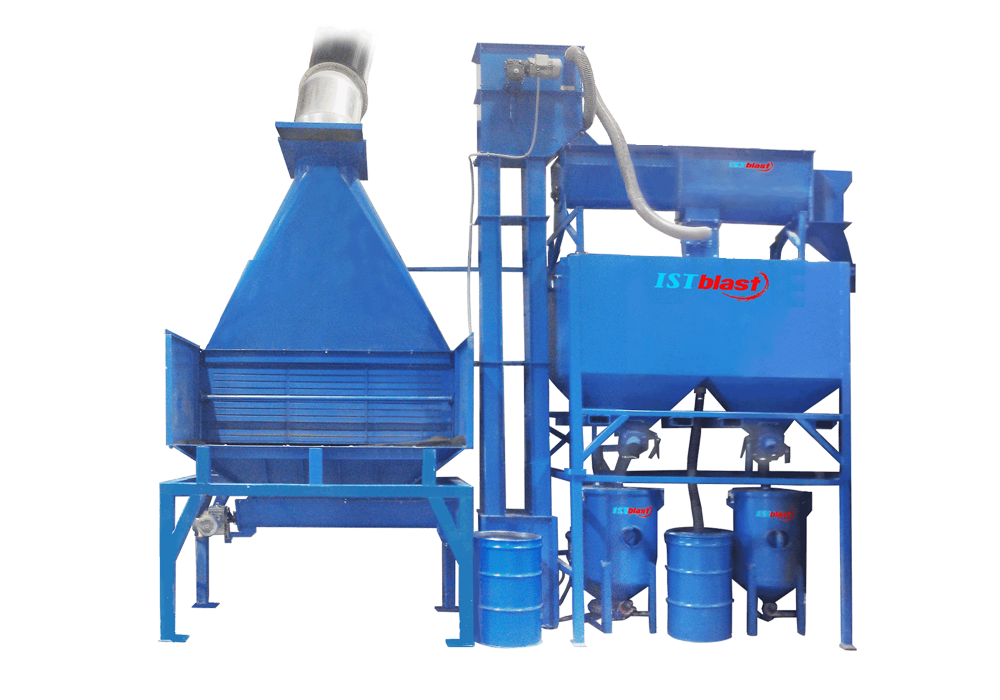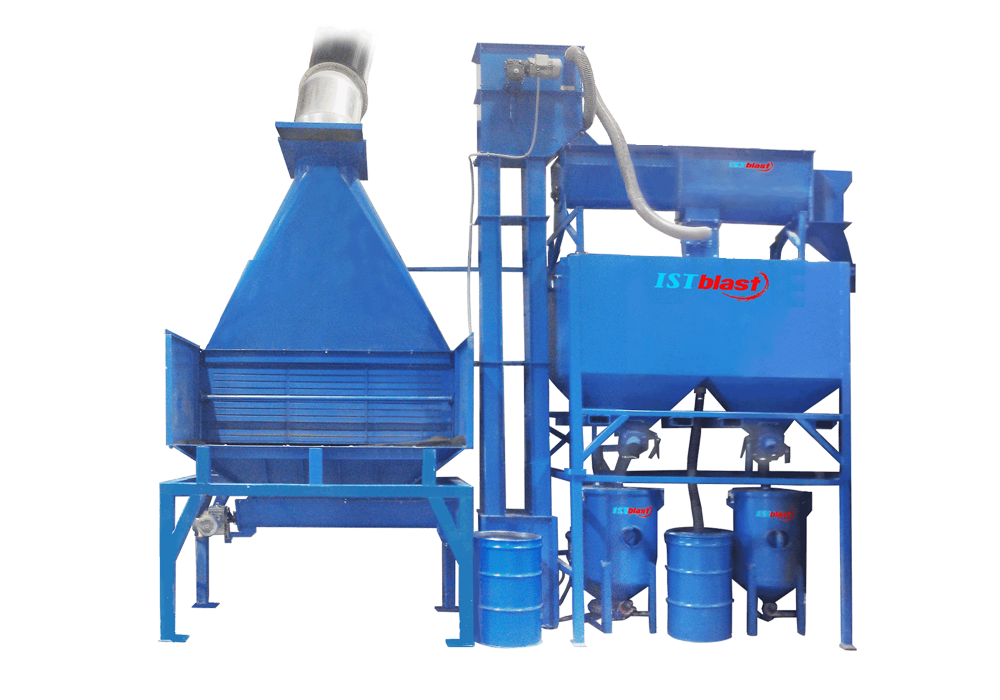 The mechanical loading recovery system is suitable for extremely large abrasive blast rooms with limited budgets, or to maximize productivity in blast facilities where excavation is not permitted.
With this abrasive recovery system, residual abrasive media must be collected from the floor and loaded into the system by the means of a mechanical loader. It is inexpensive to implement and maintain since it only has a few mechanical components, which are located above-ground.
This recovery system can handle all types of abrasives available on the market today, including heavy media such as aluminum oxide, steel shot, and steel grit.
HOW IT WORKS

Abrasive residues must be loaded mechanically with a loader in a discharge hopper in order to be recovered by the system. The dirty media mix discharges through a mesh screen in order to capture large debris that could clog the system.
Below the mesh screen, a first worm screw conveys the dirty media mix to the bucket elevator. However, unlike the traditional mechanical recovery system, the dirty media mix is then discharged into a second screw conveyor to reach the air wash separator mounted on a double blast pot assembly.
Recovery System Capacity
The recovery rate capacity is 3,300 lb/hr.
Installation Requirements
This system does not require excavation – all components are located above-ground. However, it requires a higher ceiling clearance than other in-floor recovery systems. A ceiling clearance of 23 feet only allows the installation of a small 6.4 cu.ft. storage hopper, which is unproductive for that system because it would require cleaning up the floor each time the pot runs empty in order to refill it.
A 50 cu. ft. or a 100 cu. ft. storage hopper is recommended for that system. These massive storage hoppers require a ceiling clearance of at least 23 ft to take full advantage of that system's impressive recovery rate capacity and to ensure your blasters never run out of media.
Advantages of the Mechanical Loading
The key advantage of this system is that, since it relies on a mechanical loader to clean the floor and feed the abrasive recovery system, there is no limit to the amount of residual abrasive media left on the floor. In traditional in-floor abrasive recovery systems, cleaning the floor frequently is recommended in order to avoid an over-accumulation of abrasive media on the floor.
Imagine how much effort would be required from a single man to remove 50 cu. ft. of steel grit media with a total weight of 12,000 pounds from the floor. Shoveling the same amount of media with a mechanical loader doesn't sound that demanding, does it?
Well, you got your answer: The mechanical loading abrasive recovery system is designed to maximize the productivity of oversized blasting facilities, as well as for operators that do not want to bother cleaning up the floor manually several times a day.
Also, this system is perfectly designed to accommodate two pressure blast pots. Each blast pot can supply up to two blasters, which means that this system can easily accommodate up to four operators blasting simultaneously in the facility.
TECHNICAL FEATURES
ISTblast offers various types of recovery floors that can be adapted to your production space and budget. When excavation is not permitted or room is oversized to allow blasting of very large parts, implementing in-floor recovery system can be costly or technically impossible. While manual-shoveling recovery systems exist, they require enormous operator effort, and may result in productivity loss or even injuries.
For these reasons, the Mechanical Loading Recovery System allows operator to use mechanical loader ("Bobcat") to load residual abrasives from recovery pit. We manufacture a complete line of Recovery Systems to accommodate sandblasting facility constraints, and these systems are compatible with our equipment, with other manufacturers' equipment, and even with self-made facilities. Good abrasive-recovery systems respect the 3R fundamentals: recover, recycle and reuse.
ECONOMIC FEATURES
Recycling abrasives allows the user to achieve substantial savings in abrasive consumption while protecting the environment from harmful sandblast dust. Although the cost of steel shot is about 10 times higher than non-recyclable media, steel shot abrasives can be recycled and reused up to 100 times compared to only once with standard media. Not only does it make sense environmentally – it is also far more economical to recycle your abrasive.
Non-recyclable sandblasting abrasives are not expensive to purchase but can only be used for one sandblasting cycle. Because of their fragile molecular structure, they deteriorate quickly while generating harmful residual dust and substantially reducing operator visibility.