ISTblast series Rotary indexing table machines, available with both suction and pressure, can be manually or automatically loaded in high-volume production applications. Blasting applications range from rugged surface finish to delicate deburring, to shot peening or blast-specific sections.
Basic versions can be equipped with different sized turntables to accommodate parts varying in sizes and shapes.  Bottom of machine designed as hopper that collects circulating blasting media. This material hopper is fitted with discharge buckets connected with blasting guns. After blasting, parts are blown by air nozzles to separate section away from blasting and remove any residual blasting media.
Updraft separator on back of machine catches and separates residual blasting media, dust and light foreign bodies to return only reusable media to nozzle.
HOW IT WORKS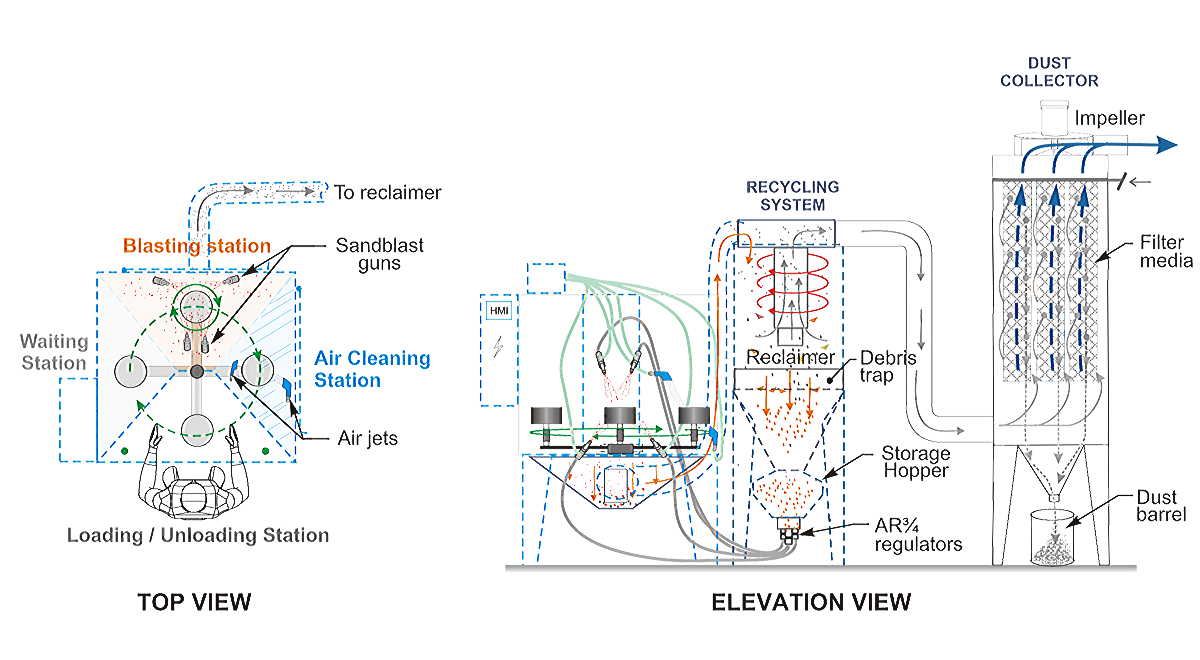 STANDARD FEATURES
Can be equipped with 4, 8, or 12 satellites operating completely automatically.
Can be used with many different abrasives
Turntable speed adjustable
Versatile nozzle configurations
Nozzles easily adjusted
Manual loading & unloading
AVAILABLE OPTIONS
Automatic media feeder for continuous abrasive blasting
Grit media classifier for precise control of media size
Light curtain for enhanced ergonomics
Oscillating nozzle for better blast coverage
PLC controller with touch screen
Automatic loading & unloading system
Shot peening version also available