Ideal for integrated cell manufacturing, ISTBlast deflashers function with high efficiency in integrated manufacturing cells, where similar parts or families of parts are molded and finished within stringent quality and time constraints of just-in-time manufacturing. ISTBlast Inline Rotary Head blasters provide continuous flow blasting process with even blasting quality over entire surface with consistent results.
Systems equipped with rotating nozzle head that spins over moving parts carried by inline conveyor to provide even surface preparation within stringent quality and time constraints of automated or just-in-time manufacturing. Parameters such as conveyor speed, rotating nozzle-head speed and abrasive propelling can be adjusted to personalize each process and obtain consistent results from one batch to another, with minimal handling from operator.
Small-footprint units are compactly designed to operate near molding presses or link via conveyor to presses. Can be easily configured for automatic or semi-automatic operation to eliminate hand finishing and increase production throughput. Available in adjustable mesh belt, double belt, and other part-handling configurations, the ISTBlast deflasher comes standard with dust collector and air knife for flexibility and versatility that meet today's requirements for on-demand production without sacrificing quality.
Equipped with powerful induction-feed suction blasting system, the ISTBlast deflasher assures finished parts are clean and dust-free. Units come with free-standing dust collector and external cyclone with adjustable separator for media recycling. Pulse-type dust collector provides continuous filter cleaning for high volume usage. Optional high pressure air blow-off system also available for maximum cleaning.
Open-weave mesh belt models allow parts to be blasted from all angles, with wide spaces between links for blasting under parts. Single-point gun swivels can be adjusted to any angle, with quick conversion for different parts. To accommodate a wide variety of part configurations, guides for single or parallel parts can be adjusted to any size and used in multiple tracks. Belt width, mesh size and wire thickness can be selected to suit any size and strength requirement.
HOW IT WORKS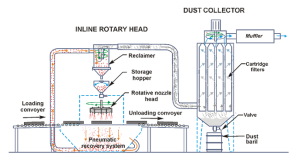 KEY FEATURES
Rotary Blast Head: These high performance Rotary Head systems are at the heart of the blasting system and are specially designed for optimum performance. Each rotary head is custom made, while individually-adjustable nozzles in the cabin housing produce the most effective and productive blast pattern possible.
Filter systems: Dry or wet, with or without explosion-proof protection, IST provides a wide range of dust filtering systems constructed with cutting-edge technology. The design and construction of these systems take into account the latest regulations regarding dust removal for sandblasting applications.
Automation: IST's continuous-flow Rotary Head blasting machines can be easily combined with automatic loading and unloading conveyor, allowing simple integration into automatic production lines at any time.
Key Advantages
Short processing times
Head and nozzle longevity
High performance blasting
Abrasion-resistant piping system (Urethane)
Easy accessibility and replacement of the nozzles and parts
Direct Drive, lower noise levels, and less wear on parts such as bearing block
Front door window protected by rubber sheet to resist abrasive
Heavy Duty construction and welded steel frame
Short spare-part delivery time
Continuous flow blasting process
Design allows for integration of robot units for fully automatic loading and unloading
Available with 4-6-8 or 12 adjustable nozzles for optimal blasting results
Uniform processing of complex component contours
High process reliability with all-around blasting result
Processing long components (profiles, beams) possible, as well as secure blasting of small components and parts
Easily integrated into existing production lines
Used blast media is cleaned via cyclonic separator that can be equipped with optional magnetic separator or classifier
Large particles from used blast media discharged via rotating drum screen