ISTblast MBB Basket Blasters automate cleaning, peening and finishing of small workpieces. With certain types of parts, no other finishing method can compare to these heavy-duty machines in terms of speed and quality results.
Operation is simple: Load parts into basket equipped with small perforations to let media enter blasting area, set precision timer according to desired output, and let Basket Blaster do the rest. By tumbling parts within abrasive blast streams, these machines deliver consistent finishes – automatically.
ISTblast heavy-duty Basket Blasters feature unloading chute to speed parts-handling, and rubber-lined media reclaimer supported by rugged duct work to reduce maintenance requirements.
Two models available:
MBB with 350-lb parts capacity and three pneumatically controlled oscillating blast guns that increase production rates while reducing power consumption
Smaller MBB unit with two blast guns and 250-lb capacity
HOW IT WORKS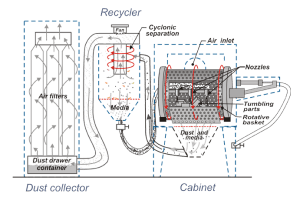 KEY FEATURES
Coated basket
Automatic blow-off cycle
Signal light to indicate cycle completion
Non-standard voltages available
50 or 60 Hz operation
Larger 7/16" nozzles (MBB 1630 requires 104 SCFM at 60 psi; MBB 3030 requires 156 SCFM at 60 psi)
Smaller ¼" nozzles (MBB 1630 requires 34 SCFM at 60 psi; MBB 3030 requires 51 SCFM at 60 psi)
High-capacity fan for larger media
Small-parts barrel with 1/8" diameter perforations
Barrel kick flights for more even processing of parts
Cartridge-type dust collectors
Automatic bag shaker or photo-helic controlled pulsejet cleaning for cartridge-type dust collectors