ISTBlast Rubber Belt Blaster tumble blast cabinets deliver efficient, affordable batch processing, while automating cleaning, peening and finishing of small workpieces. With certain types of parts, no other finishing method can compare to these heavy-duty machines in terms of speed and quality results.
Easy to operate: simply load parts and set timer, then return later to unload perfectly cleaned or finished parts. To optimize finish on parts you can adjust time, blast pressure, media type, media flow, tumble speed and blast duration.
As parts tumble, three or more nozzles uniformly blast all exposed surfaces to deliver consistent finish automatically. Includes standard oscillating gun-mount to ensure maximum coverage of all parts.
Inside tumble cabinet, parts ride on thick rubber belt that is perforated to allow blast media to fall through. Interior of tumble-belt cabinet-blast enclosure is rubber-lined to withstand years of cleaning or high shot peening.
INSIDE VIEW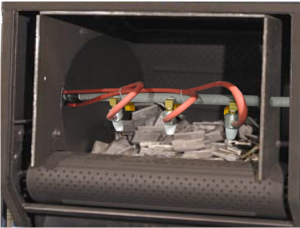 HOW IT WORKS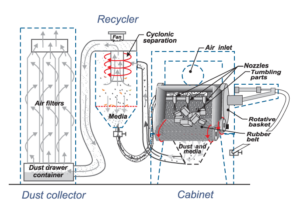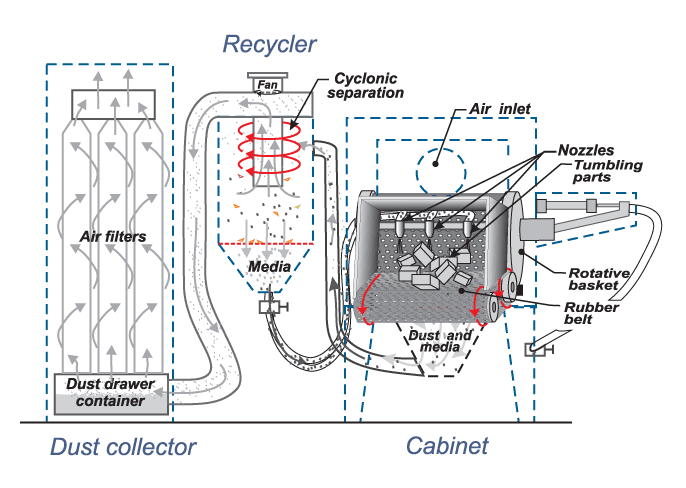 KEY FEATURES
Safety Door-Switch prevents blasting when door is open
Precision adjustable timer. Variable speed and jog controls also provided for basket
3 pneumatically-controlled oscillating blast guns for increased productivity and reduced air consumption and power costs
External blow off gun
Door/blast interlock
Unloading chute facilitates removal of finished parts
DC variable drive (2 to 20 RPM)
1" piping with general purpose filter, gauge and pressure regulator
Complies with OSHA standards