IST offers different door security options to improve the usage of its equipment and increase health and safety for operators. Basically, we have two levels of security available:
Level 1: Door Security Lock – Ensure blasting operations are disabled when a door is open, but the dust collector and the air blow gun remain active.
Level 2: Door Security Lock with Timer – Same as previously with the addition of an adjustable timer to allow cabinet door to open after a predetermined time upon release of foot-pedal control (or sandblast gun trigger). This device prevents dust from escaping the cabinet into surrounding areas and avoid exposing the operator to hazardous dust.
HOW IT WORKS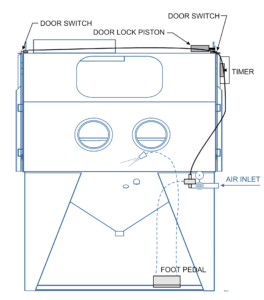 Contact your IST representative to discuss available options for your cabinet.