Lifting solutions facilitate replacement of sludge bags between batches on SR Series solvent recyclers, reducing risk of operator injury. Our lifting systems are suitable for any shop layout, even where railway crane exists.
Crane System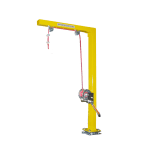 Crane system facilitates residue bag replacement on our large-capacity solvent recyclers SR120, SR180 and SR240. Avoid placing heavy loads on your back with this lever equipped with manual hand crank. Crane system is mounted directly onto unit and does not take up additional space in the shop.
Product Number: 320010
Residue Basket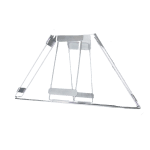 Residue basket makes it easier to remove sludge bag from boiler once distillation process is finished. Can be attached to railway crane or to optional crane system mounted on recycler.
Product Number: 320005