GMA GarnetTM is among the cleanest and cost-effective abrasive media available in the market today. In addition to achieve a high quality surface preparation, it is non-toxic, produces very low dust emissions and can be reused between 5-10 times.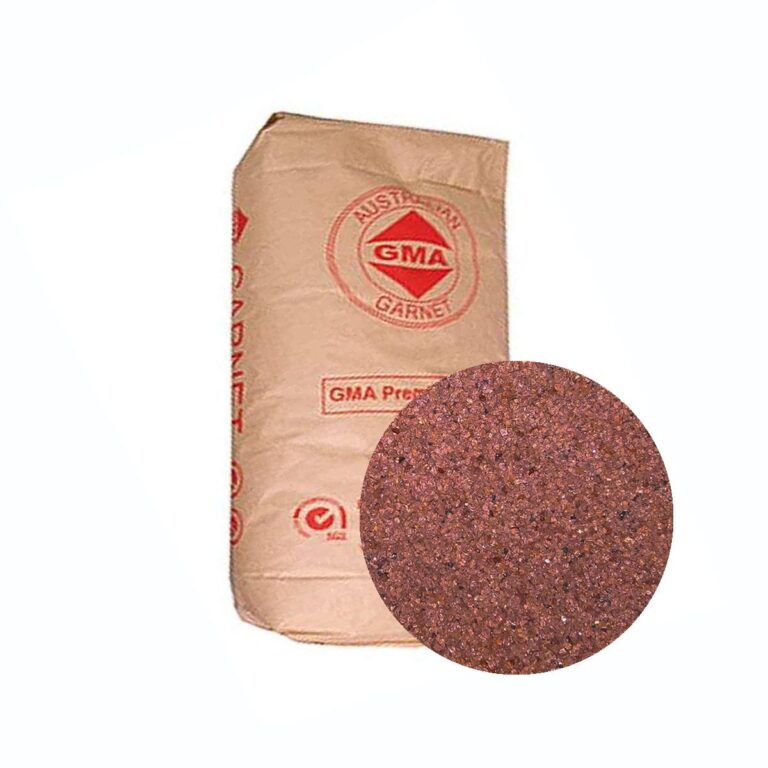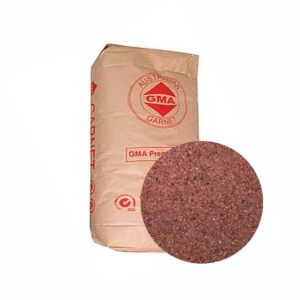 GMA GarnetTM consists of totally natural almandine garnet known for its natural hardness, durability and abrasive characteristics. It is free of any heavy metals or toxic components and meets all Occupational Health & Safety requirements. GMA GarnetTM provides a perfect symbiosis of grain size, density and hardness/durability. This ensures optimum abrasive efficiency in terms of lowest abrasive consumption and highest production rates at safe environmental and health conditions. It is a cost effective alternative to silica sand, mineral slags and steel grits and shot because of its low consumption (kg/m2) and high productivity (m2/hr) and can be recycled 5 – 10 times depending on the application due to its superior toughness and low friability.
Cost / usage chart (lb)*
| | | | | | |
| --- | --- | --- | --- | --- | --- |
|  Abrasive |  lb / bag |  $ / bag |  $ / lb | Reuse Rate  | Cost / Use (lb)  |
|  GMA Garnet |  55 |  $38.50 |  $0.70 |  5 to 10 |  $0.07 to $0.14 |
|  Low-Recyclability Media |  50 |  $12.50 |  $0.25 |  1 to 2 |  $0.13 to $0.25 |
* Prices are indicative only
GMA GarnetTM is mined and processed by the world's largest producer of industrial garnet situated in Western Australia. It is processed to the highest standard of quality in respect of mineral purity and meets the stringent requirements of ISO 11126-10:2000 for chloride and free silica content. Special fine grades are also available for aluminium, turbine blades, fibreglass and other specialist surface preparation applications.
GMA GarnetTM is certified with ISO 9001:2000 Quality Management System, demonstrating our commitment to quality and customer satisfaction, as well as continual improvement of our quality systems. Furthermore, GMA GarnetTM is certified with ISO14001 for Environment Management Systems, demonstrating our commitment to producing an environmentally-friendly garnet abrasive delivered in a socially responsible manner. It is free of metallic iron, making it suitable for all areas of surface preparation including stainless steel, anti-magnetic steel and all special alloys.
ADVANTAGES:
Cost-effective Blast Cleaning You can compare the effectiveness of the GMA GarnetTM over other abrasives by using our by visiting https://www.gmagarnet.com/en-us/abrasive-blasting.
Low Dusting Blast cleaning with GMA GarnetTM means significantly lower dust emissions because of the inherent toughness of the material and rapid settling due to its high specific gravity. This ensures minimum disruption and danger to adjoining operations and improved operator visibility and safety.
Low Consumption Its unique grain size ensures that there are many more active grains impacting on the surface resulting in greatly reduced abrasive consumption.
Superior Surface Quality GMA GarnetTM grains clean deep into the cavities and pitted areas down to the bare metal, thoroughly removing all rust, soluble salts and other contaminations. The blasted surface is free of embedments and free of rogue peaks and troughs. SP-10 White Metal is effortlessly achieved. A surface profile of 1.5-3.5 mill is easily achieved along with a much greater number of peaks per unit area.
Improving Health It is non-toxic. There is no silicosis hazard, leachable heavy metals or radioactive contaminants. Lower consumption and recyclability result in greatly reduced disposal volumes of non-toxic product.
Recycling It is suitable for multiple usage. It can be recycled 5 times or more without losing its superior cutting ability. Special GMA GarnetTM recycling systems are available upon request. All of which adds up to natural, clean and cost-effective blasting.
High Productivity GMA GarnetTM is very fast cutting due to the large number, speed and shape of grains impacting on the surface. The acceleration and speed of a grain in an air stream is a function of the inertia and hence the size of the grain. Smaller grains accelerate much more readily, thus imparting higher impact energy to the surfaces resulting in a superior cleaning rate – usually twice the ft2/min of conventional abrasives.