The filtering bags are made of circular knit polyester fabrics, which gives them excellent filtration efficiency. During the first few minutes of operation, the filtering bag must fill in its pores in order to perform correctly, so it is normal to see dust escaping from the bags until the filtering media becomes tightly hermetic. Once the bag is completely sealed, this porous fabric can capture up to 99% of particles down to 5 microns or over.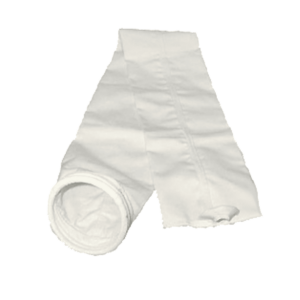 Their unique, seamless tube design consists of a patented "loop pile" surface that easily removes dust build-up during the cleaning cycle, while preventing the blinding or plugging of the fabric. Eliminating the seam also offers an additional filter area, providing increased airflow.
Unlike conventional woven and needled textiles, the thickness and fibre density of the circular knit fabric provide a high permeability, reducing pressure drop conditions, with excellent filtration efficiency. Additionally, electrically conductive carbon fibre is knitted into the fabric to protect against static build-up by constantly drawing static charges to the ground.
Uncontrolled electrostatic build-up could lead to an explosion or fire when combined with a sufficient concentration of combustible dust floating in the air. The anti-static yarn also plays a role in increasing filtration efficiency by avoiding static cling, due to opposing static charges between the dust and the filter bag which prevent the bag from releasing the "dust cake".