Continuous shot blasters with oscillating drum are designed for blast cleaning of large castings of different shapes and weighing up to 220 lb in continuous flow production.
This system integrates perfectly with automated production lines as it is usually built into a system of line transport and can be continuously fed with parts. It can also be integrated into a Preservation line.
The output capacity depends on the selection and construction, but typically ranges from 4,400 to 26,500 lb per hour.
How it Works
Parts are loaded on a vibratory conveyor at the entrance of the shot blaster with a lifting device (lift, forklift) or with a conveyor. Parts are then moved towards the oscillating drum in which they fall by gravity.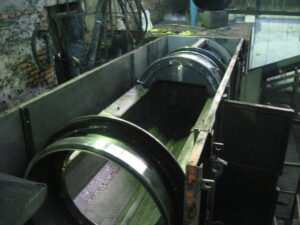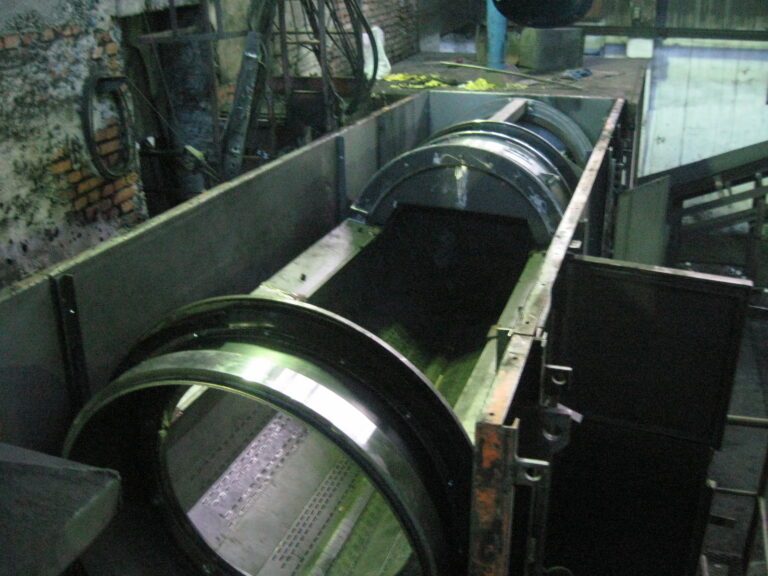 Above the drum, the abrasive is propelled by a set of ir sm@rt multi-option blast wheels ranging from 5.5 to 30 kW. The number and power of the blast wheels are determined by the process requirements and yield.
The upper section of the drum is open to allow for shot blasting to reach the parts. The swing of the oscillating drum continuously keeps parts in movement and in rotation, which enables optimal blasting results over the whole surface of the workpieces.
The incline of the drum is regulated with a hydraulic device for lifting and dropping.
Parts exit the oscillating drum on a vibratory conveyor and fall into a basket or on a conveyor on their way to the next working station.
Abrasive media reclaiming system
After use, residual abrasive media falls down the bottom of the blasting chamber, where it is conveyed by screw conveyors and a bucket elevator to an automatic media cleaner.
The abrasive reclaimer provides continuous handling and recycling of abrasive media based on particle size in order to maintain optimal and consistent quality blasting.
For heavily regulated applications, a magnetic and/or vibratory particle separator can be added to precisely sort the abrasive shots based on their size and density.
Standard Features
All shot blasters are equipped with PLC, display, timer, automatic or manual mode, automatic start-up of the blast wheels, working-hours counter, and other basic features.
Blast wheels and blasting chamber inner walls are protected by wear-resistant shields made from manganese steel liners for extremely long service life.
Optional Features
Blast wheels can be equipped with a frequency drive and ir sm@rt valve to precisely control the flow of media for optimal results.