In-line sandblast systems are ideal for high-volume production of parts that cannot be subjected to part-on-part contact. 
Several types of conveyor systems are available to move your parts through the blasting area with optimal efficiency and exposure to the blast stream, on top and bottom surfaces if needed.
Depending on the parts' shapes and dimensions, the blasting area can be equipped with fixed nozzles, oscillating nozzles on a vertical/horizontal axis, mounted on a rotary head or precisely manipulated by a robotic arm.
COMMON APPLICATIONS OF PASS-THROUGH/IN-LINE SANDBLAST SYSTEMS
Designed for high throughput, continuous flow production of parts varying in shape, size, and complexity:
Relatively sheet-form parts – such as aluminum doors, metal panels, building materials, etc.
Cylinder-shaped parts – such as pipes, rods, drums, barrels, gas tanks, pressurized vessels, etc.
Long parts – such as structural beams, window and door extrusions, etc.
ADVANTAGES
Inline Sandblasting systems have continuous flow production with seamless integration with the production line.
Flexible process that can be adapted to address numerous applications.
Wide range of conveyors and means to make pieces travel and flip along the blasting area.
Simple operation system that can be personalized and store recipes.
HOW IT WORKS
All the pass-through blasters are designed to achieve the best performance and output for a given application. The shape/size/weight of the parts, process requirements, production rate target, and feeding method will influence the machine's final design.
Generally speaking, parts are loaded on a conveyor either manually by an operator, or automatically with the use of a robotic arm, pneumatic/mechanical loader, or in full integration with the production line.
Parts are conveyed to the blasting zone where they are blasted by fixed nozzles, moving nozzles, or nozzles mounted on a rotary head. As they exit the blasting area, parts are cleaned by blow-off nozzles.
In some cases, parts must be flipped and returned to the blasting area, or are kept in constant rotation as they travel on the conveyor to ensure a complete coverage of the surface.
Dust and airborne particles are contained within the blasting area and exhausted to the dust collector while blast media is collected at the bottom of the cabinet, cleaned by a cyclonic separator, and returned to the storage hopper for further use.
Here is a general operating diagram of the simplest design we can build.
Nozzles mounted on a rotary head



Fixed nozzles
NOZZLES ARRANGMENT
The size and the shape of parts define the proper nozzle arrangment for the application:
Nozzles mounted on a rotary head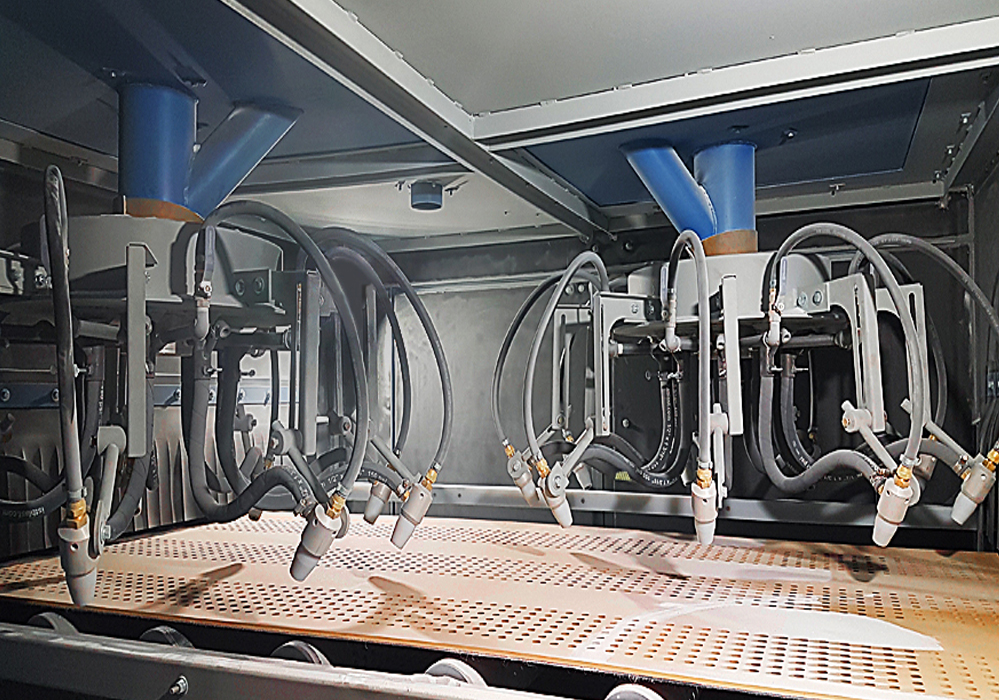 Fixed nozzles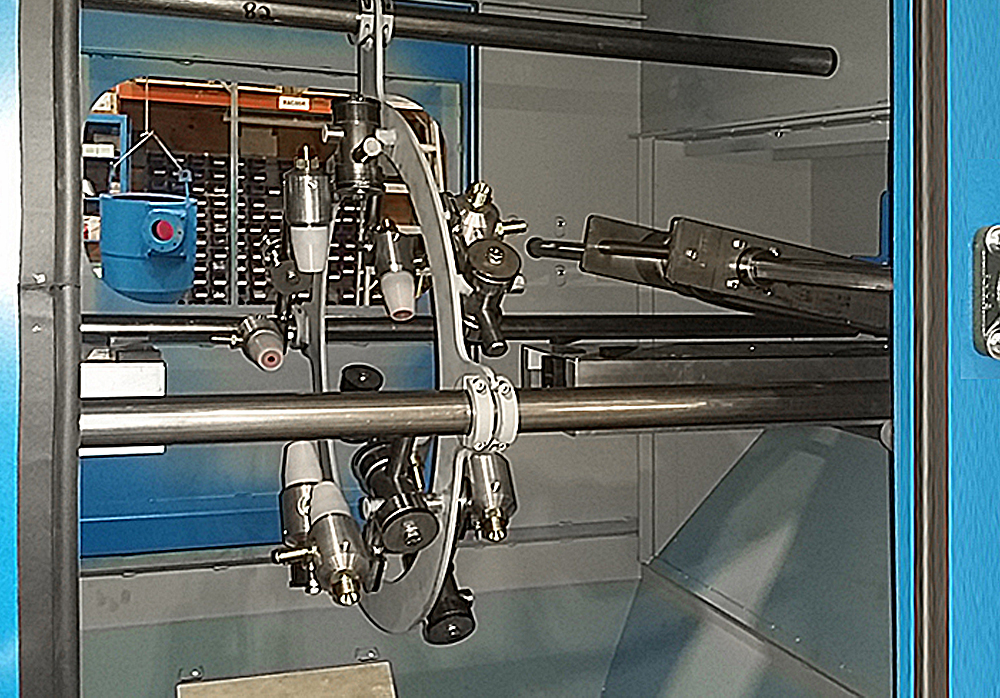 CONVEYOR SYSTEMS
Several types of conveyor systems are available to move your parts through the production line with optimal efficiency and exposure to the blast stream.
Our conveying solutions also include the means to rotate parts as they travel or flip them in order to expose all sides to the blast stream, as well as guides to help them remain within the blasting area.
Optional loading/unloading systems are available to facilitate feeding the machine and slow parts down as they exit the blow-off cleaning station.
Rubber Belt Conveyor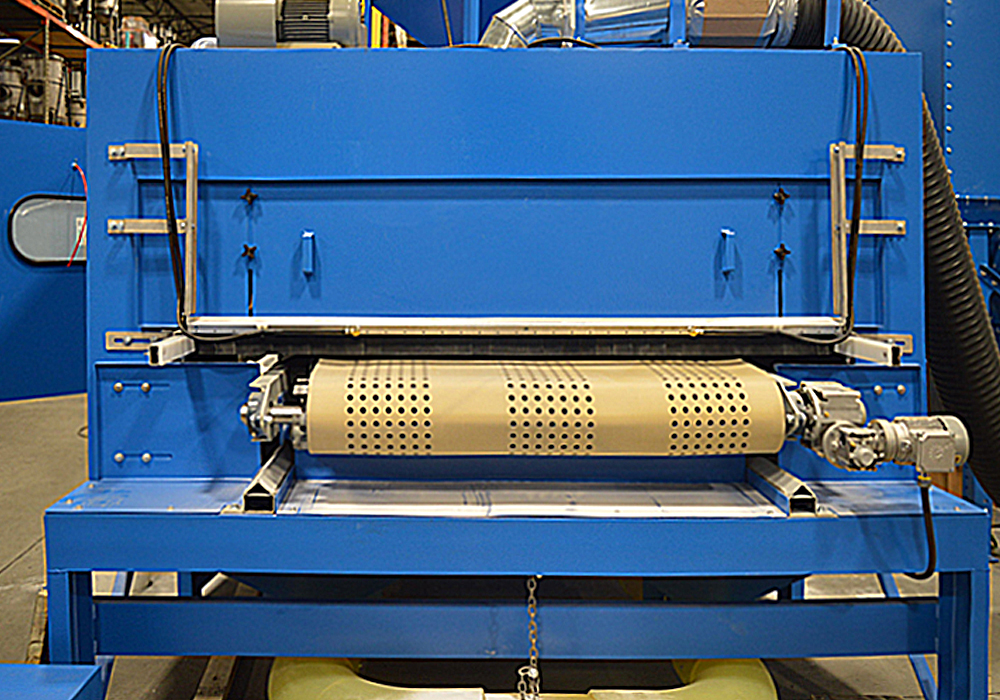 Motorized Roller Conveyor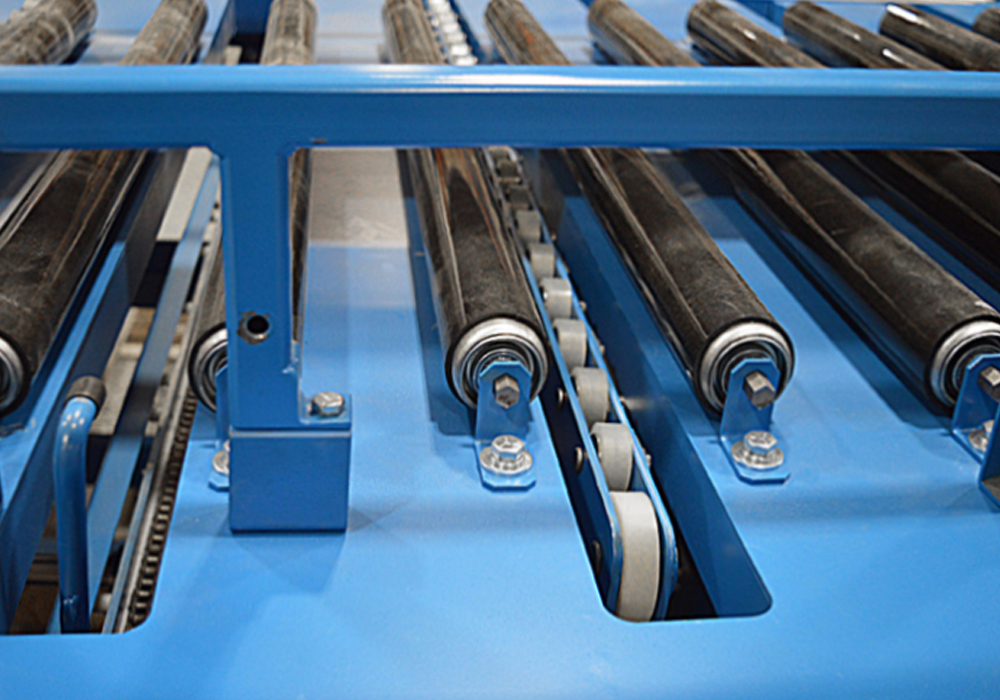 Powered Roller Conveyor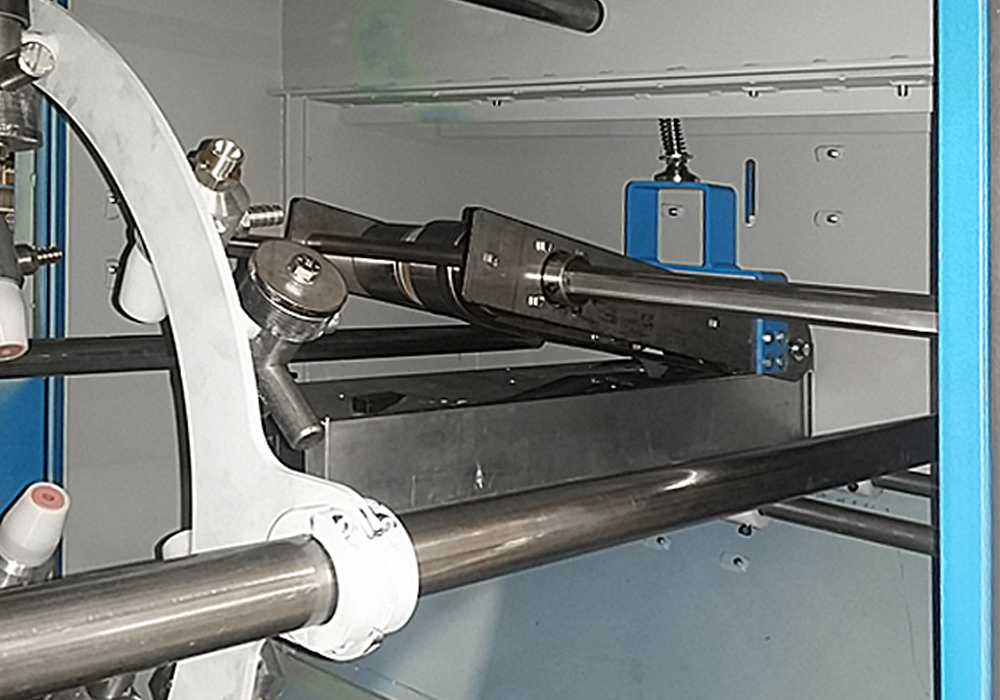 KEY FEATURES
Custom Design and Fabrication: Each system is tailored to the customer's specifications to address all process constraints and for optimal results and productivity.
Personalized Process: Personalize your process by varying abrasive media, blast nozzle size, blasting pressure, table rotation speed, and blasting cycle time.
Fully Automated Cycle: Process sequences are controlled by PLC and interfaced with an intuitive HMI touch panel.
Baghouse Dust Collector: Choose from a range of high-efficiency baghouse dust collectors for both optimal blasting performance and minimizing wear and tear on critical components.
Media Reclaiming System: Cyclonic separation of contaminated abrasive media for optimal performance – dust and by-products are diverted to the dust collector.
Electricity: Available in all voltages and frequencies.
Compliance: Design and door switches comply with OSHA requirements and most local safety jurisdictions.
Parts Cleaning: Automatic blow-off cycle to remove all dust and contaminants from the freshly-blasted parts.
Liner Protection: Rubber lining protection on the inner wall, rotating table, and media reclaimer for extended service life (Linatech).
OPTIONAL FEATURES
Tower Status Indicator Lights: Stack lights offer modular stackable components that provide illuminated and audible status indication for machines, systems and process.
Baghouse Dust Collector Optional Package: Improve your standard dust collector efficiency and performance with the addition of an automatic cleaning procedure on filter media, a vertical or horizontal muffler, and a sealed dust collection drum.
Cartridge-Type Dust Collector Upgrade: Increase your overall process quality and efficiency with a fully-equipped cartridge dust collector able to capture up to 99.9% of particles down to 5 µm.
HEPA Filters: Our dust collectors are designed to fit a HEPA filter when the process requires it, which can capture 99.98% of particles down to 0.3 µm.
Parts Handling Robots: Automate tedious and unsafe parts handling tasks with a dedicated robotic arm.
Loading/Unloading System: Facilitate the loading/unloading procedure for heavy parts while preventing injuries in the workspace.
Remote PLC I/O: Benefit from remote access assistance on the PLC, allowing for instant troubleshooting and easy software updates.
MagnaValve Abrasive Regulator: The MagnaValve and controller provide an accurate regulation of ferrous and non-ferrous media in shot peening and blast cleaning applications where accurate and repeatable flow rates are desired.
SWECO Vibratory Media Classification System: The SWECO particle separation and sifting system provides an accurate media classification and sizing for precise peening or blast cleaning applications.