A pneumatic abrasive recovery system uses duct work and a vacuum system to efficiently collect and convey used abrasive media to a cyclonic separator, which separates reusable blast media from dust and foreign particulate matters.
The key advantages of a pneumatic abrasive recovery system:
Economical system for relatively light-duty applications.
Installation does not require a lot of space and excavation.
Ideal for small to medium size blast booths.
Cost-effective operation and maintenance.
How it Works
After contact with work pieces, abrasive media falls on the floor and mixes with the blasting process by-products – paint chips, rust, scale, shattered blast media, solid debris, etc. In a pneumatic abrasive recovery system, the dirty media mix is sucked through a ducting vacuum system all the way to the cyclonic separator where particles are sorted out based on their specific density, through vortex separation.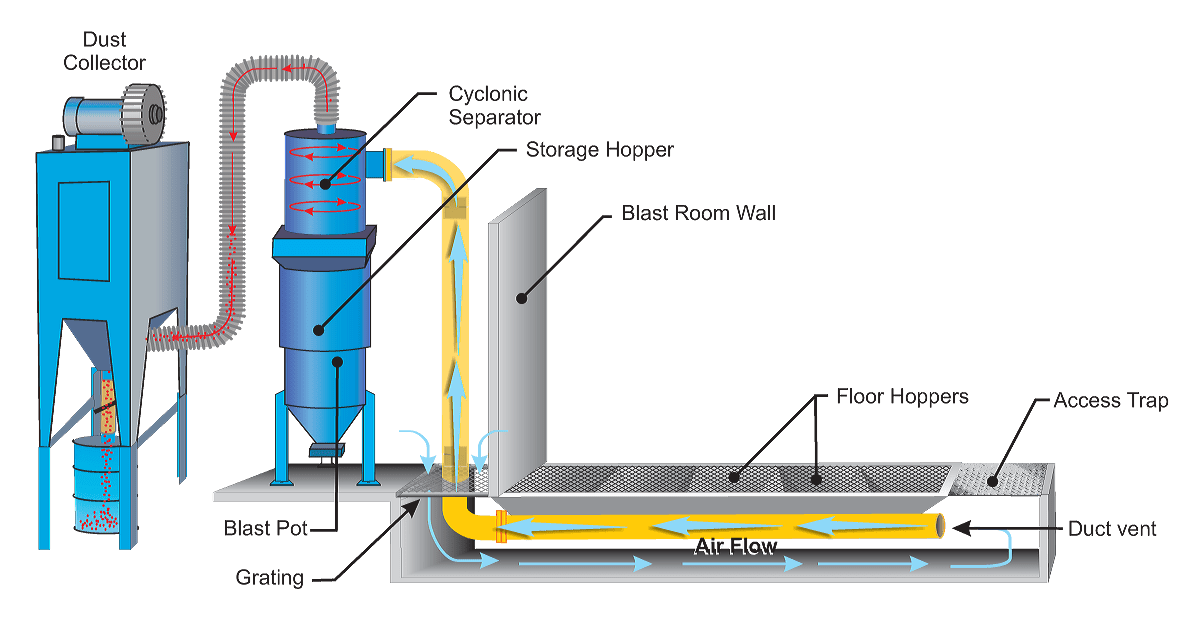 The suction motion and power is generated from an impeller powered by an electric motor located on a dust collector next to the blast pot and cyclonic separator assembly. The dirty media mix is then drafted into the system from floor hoppers excavated in the floor or located above-ground.
Pneumatic abrasive recovery systems are very economical and efficient for most types of media. However, they have certain limitations in terms of floor layout and are not suitable for some applications. Here's why.
Floor Hopper Duct Work
Below each floor hopper, the dirty media mix is sucked through a 6-inch urethane vent duct to the cyclonic media separator. Since the suction power is determined by an impeller located on top of the reclaiming system's dust collector, the length and possible configurations of the floor hoppers are limited by the suction power generated, resulting in lower floor coverage compared to mechanical recovery systems.
Common pneumatic system floor layouts may vary from a 4-foot corner shoot to a 40-foot long floor recovery pit, depending on the application and type of media.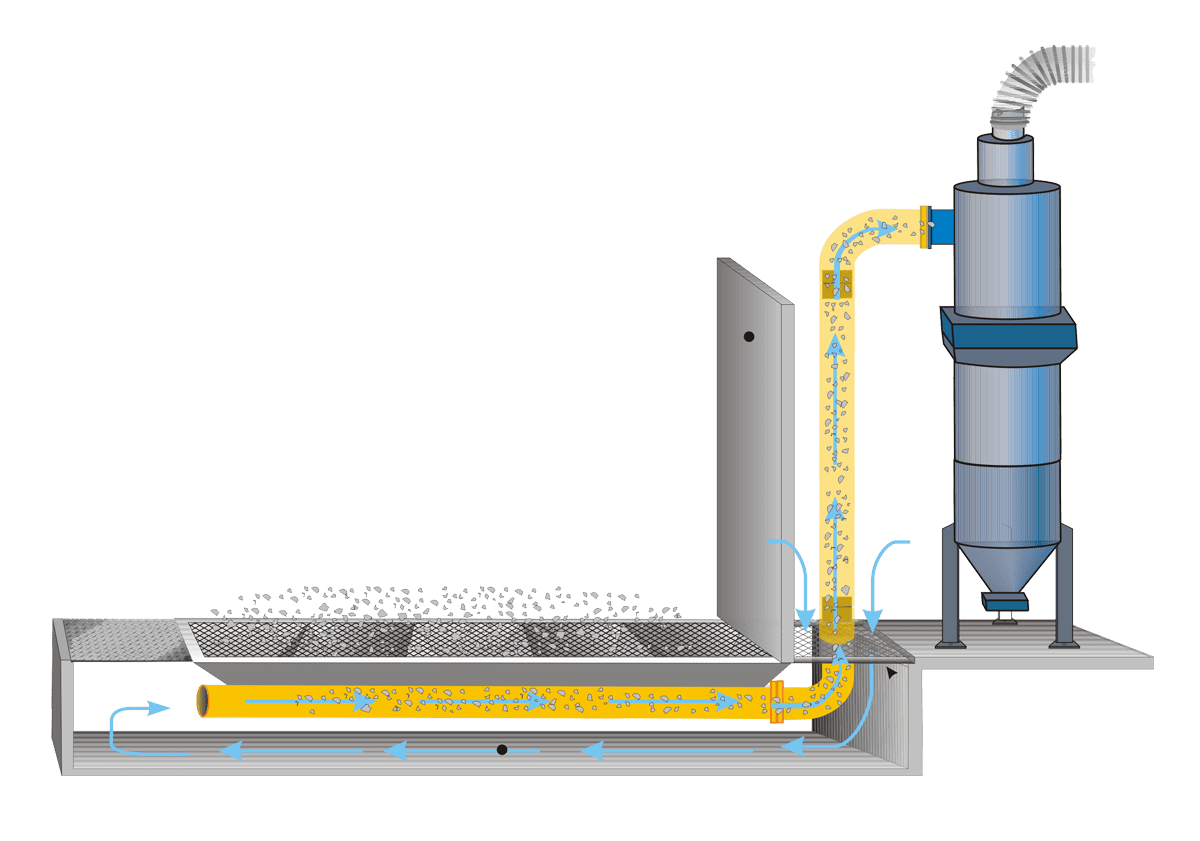 Cyclonic Separator
The cyclonic separator is the heart of the pneumatic media recycling system. Its function is to sort out dust and fine particulates from the dirty media mix collected on the floor after a blasting operation, allowing only blast media still in good shape to return to the blast machine. For that reason, it connects to a dust collector to capture dust and fine particles.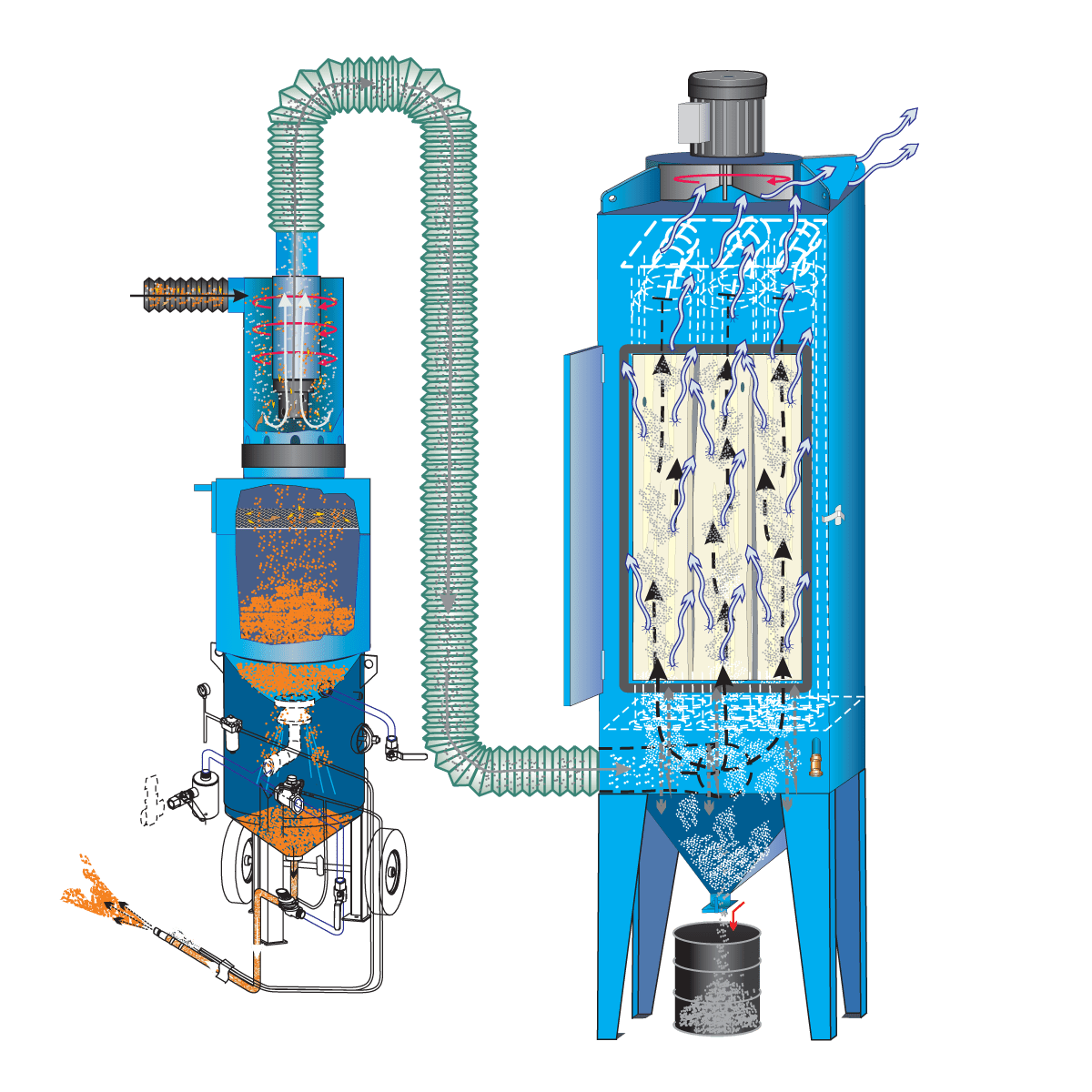 Blast Pot and Storage Hopper Assembly
The cyclonic separator is mounted on top of the pressure blaster assembly, right onto the storage hopper.
The storage hopper ranges from 3.5 to 100 cu. ft., depending on the available ceiling height space, and is used as a temporary storage unit for abrasive media while it exists in the cyclonic separator. When the pot runs empty, it must simply be depressurized to let the plunger fall, in order to refill it with media waiting in the storage hopper.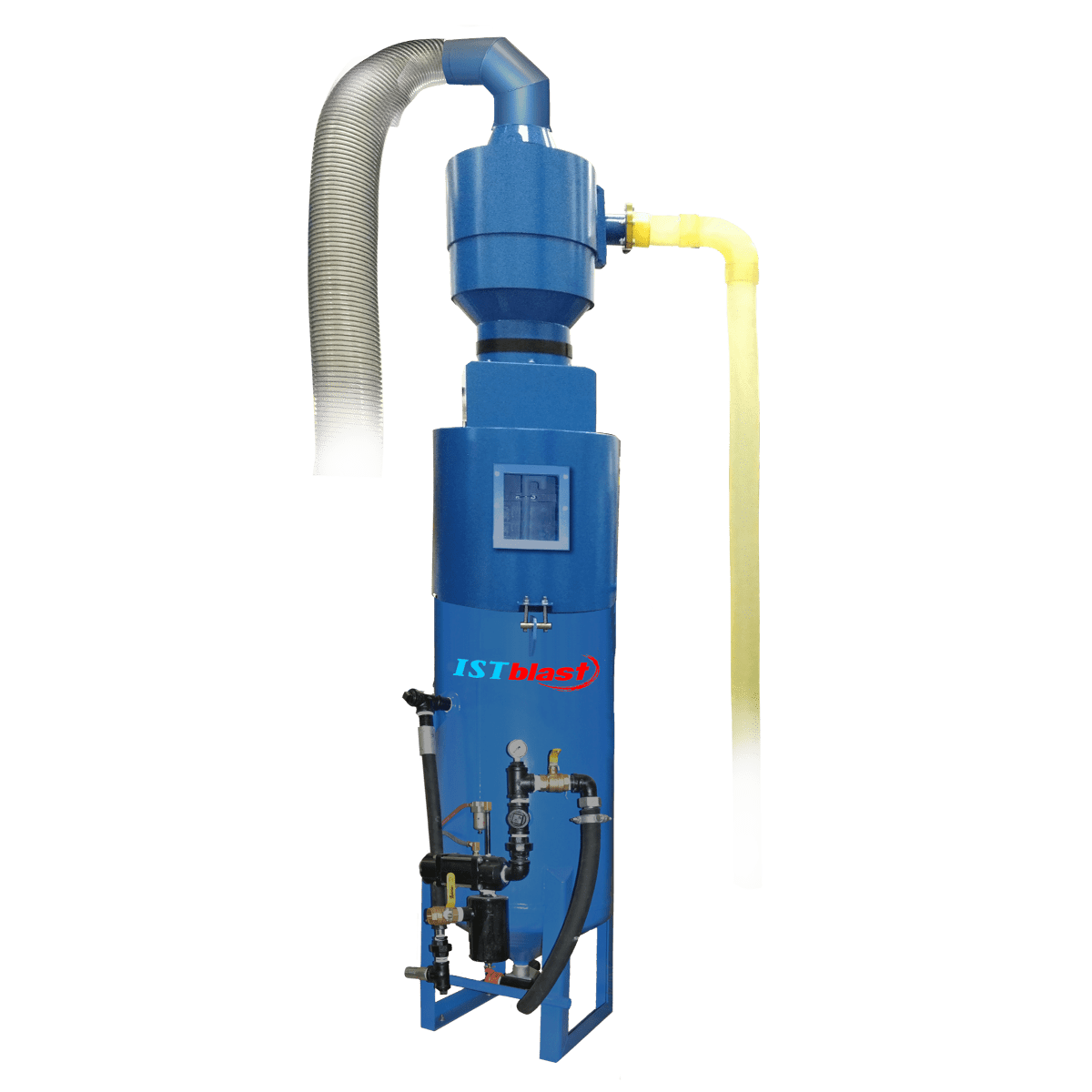 How Does the Cyclonic Separator Clean Abrasive Media?
A high-speed rotating motion is created when the airflow travels through the cylindrical-shaped housing of the cyclonic separator. To avoid premature wear on panels caused by friction with the dirty media mix, an optional rubber lining can be added to protect the interior walls of the cyclonic separator.
When leaving the cyclonic separator, the dirty media mix has two possible exits:
Light particles – dust, paint chips, rust, scale, shattered media, etc. are drafted up and diverted to the dust collector.
Heavier particles – abrasive media still in good shape and large debris fall down through a mesh drawer where large debris is trapped, leaving only good reusable media to reach the blast pot for further blasting operations.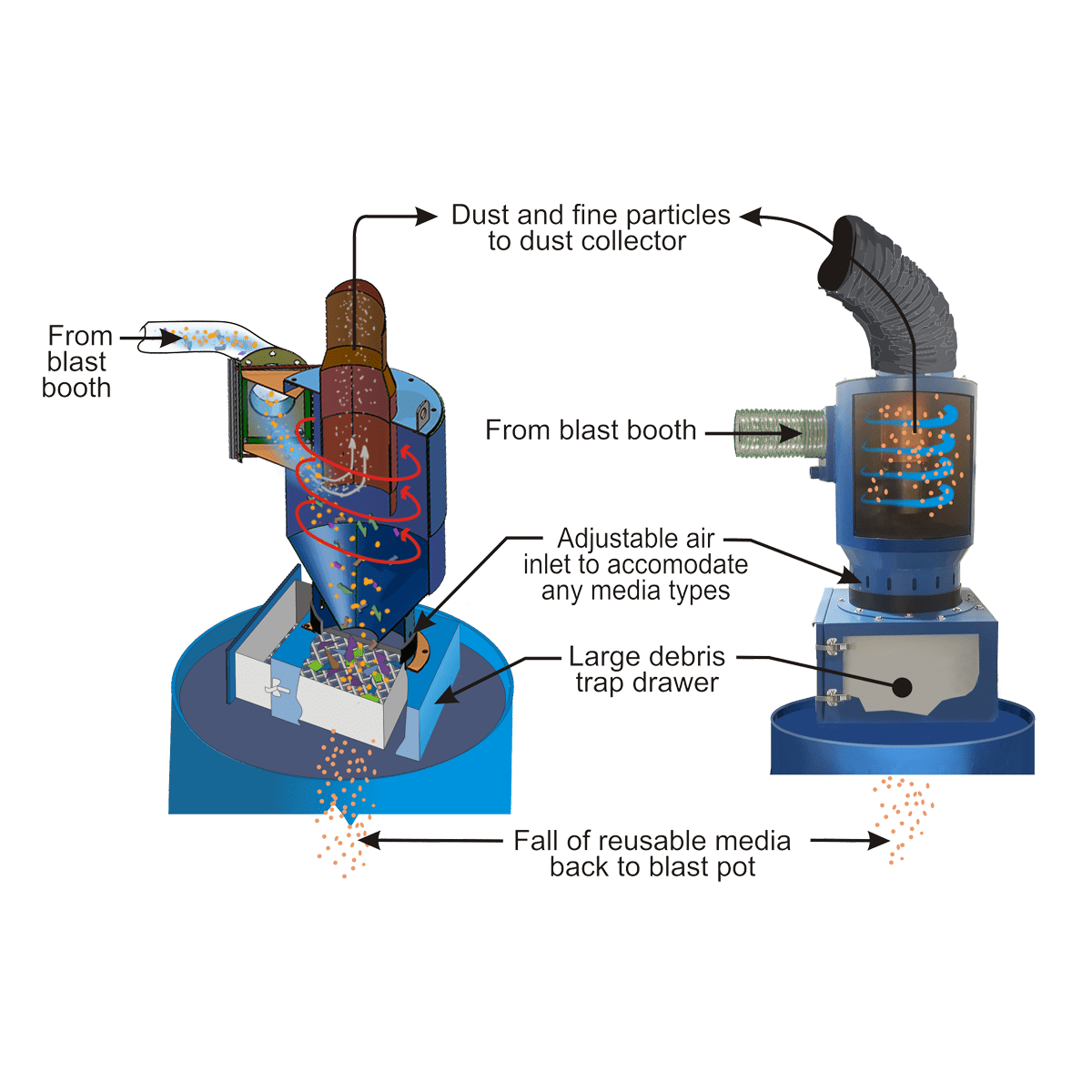 How Can We Adjust the Cyclonic Separator According to the Application?
The cyclone flow is adjustable from a rubber band located around the cyclonic separator in order to address a wide variety of media types and applications. A set of holes partially covered by the rubber band allows air into the cyclonic separator, which accelerates the vortex using the Venturi principle.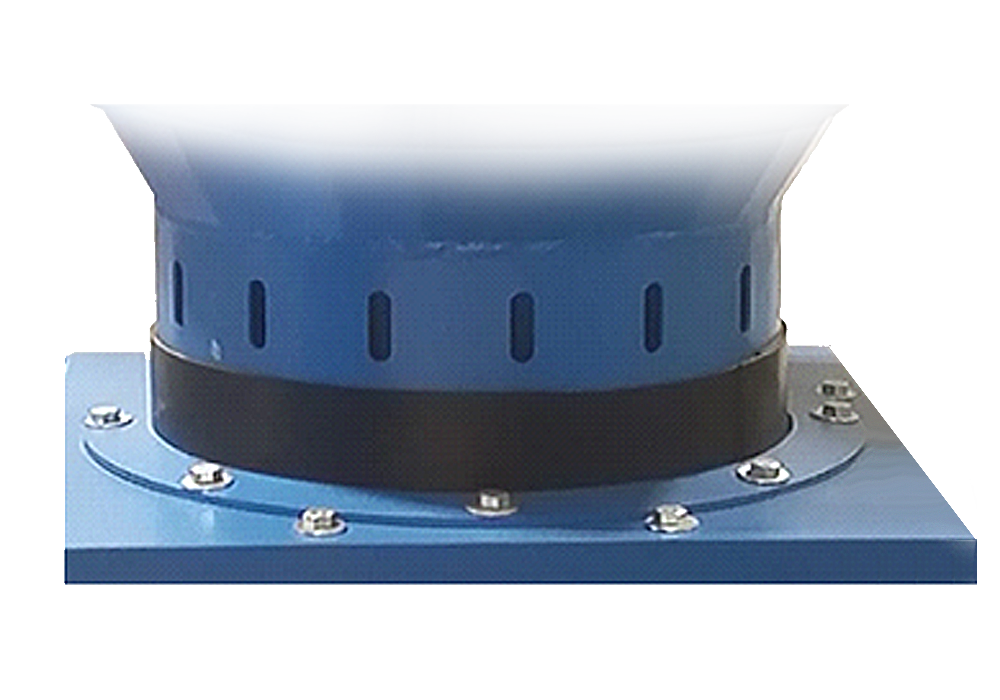 The more air you let into the entrance of the cyclone, the more aggressive the vortex motion will be, drafting up particulates with higher density. Oppositely, covering the holes partially or completely will allow less air into the system, producing a less aggressive vortex.
An improperly configured abrasive recovery system will either exhaust the entire dirty media mix – including good media – to the dust collector when too much air is allowed into the vortex, or rather the opposite, a vortex that is too weak will allow light particulate matters to fall down into the blast pot, which will negatively affect the impact of the media stream onto the workpiece and produce too much dust during operations.
However, you do not have to worry about this. The calibration of the recovery system only needs to be set once, and this is part of the blast machine startup procedures that will be handled by our qualified technicians.
Abrasive Recovery System Dust Collector
The last piece of equipment of the pneumatic abrasive recovery system is the dust collector. Its main function is to collect debris and foreign particulate matter sorted out by the cyclonic separator. It also generates the vacuum motion and power of the whole recovery system from an impeller powered by an electric engine mounted on its head for optimal efficiency.
This dust collector operates independently from the blast booth's main dust collector, which is designed to draft away and collect airborne contaminants floating in the air during blasting operations.
The recovery system dust collector has a reinforced frame designed to resist a very high air suction demand. This dust collector is extremely sturdy and durable, and requires minimal supervision and maintenance from the operator. It is delivered with a standard vertical muffler, or an optional horizontal muffler when space is not available.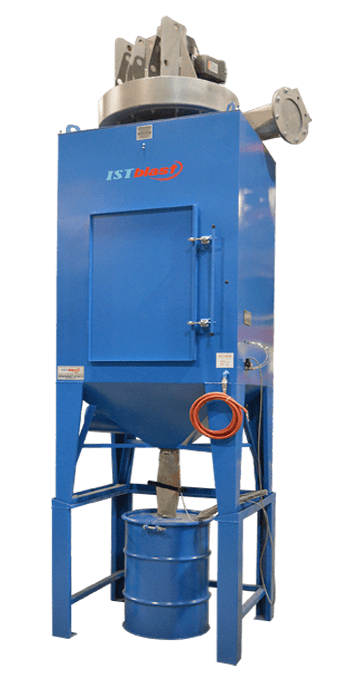 Standard Baghouse Dust Collector
ISTblast's pneumatic abrasive recovery systems are delivered with a standard DCM200 baghouse dust collector. The filter bags are designed to capture 99.5% of particles down to 3 µm in size. Filter bags are easily accessible by the front door, and replacement bags are readily available anywhere.
To shake down the dust build-up on the filter bags, this dust collector is equipped with a push-button pneumatic shaker (or an optional automatic shaker) allowing the dust accumulated on the surface of the filter media to dislodge. The dust is then collected into a container or an optional 30 gal dust barrel, which requires extension feet to lift up the dust collector.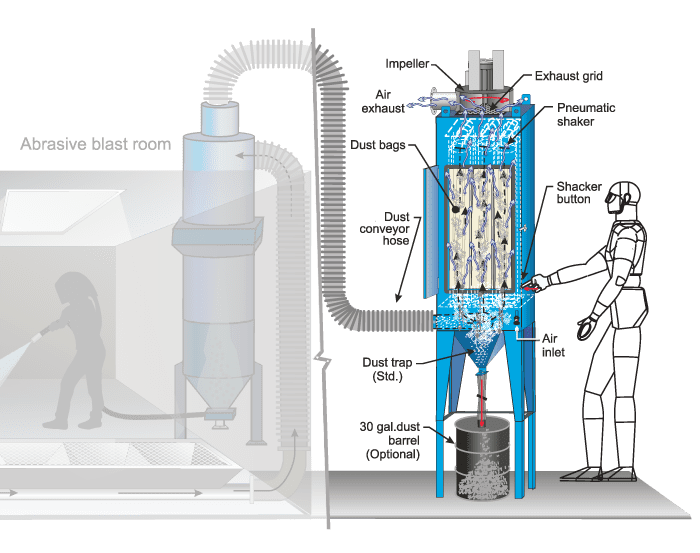 Optional Cartridge-Type Dust Collector
An optional cartridge-type dust collector is available for customers who are looking for an exceptional filtration performance. Cartridge media can capture 99.9% of particles down to 1 µm, and an optional H.E.P.A. filter can be added to the exhaust to capture 99.98% of particulates down to 0.3 µm.
This model is equipped with a reverse pulse cartridge cleaning system and a sequence controller that continuously monitors the pressure differential between the dirty and clean sides of cartridge media. When the pressure differential exceeds a certain limit, the sequence controller automatically triggers a series of reverse pulses inside the cartridges to remove the dust build-up on their surface until a normal pressure differential is achieved. The sequence controller will also notify the operator when the cartridges need to be replaced. In other words, you can focus on the blasting process without having to worry about maintaining your system.
For more information on cartridge-type dust collectors, check out the DCM600-1800 Series Cartridge-Type Dust Collectors.
Limitations of the Pneumatic Abrasive Recovery System
The pneumatic sandblast recovery system is not designed to carry blast media with high density such as steel grit and other large-mesh metallic media.
In fact, this system is limited to convey metallic grit of 80 mesh or smaller, and the floor recovery pits cannot exceed 20 feet in that case. Otherwise, the system will require too much compressed air from the compressor to become a cost-efficient process. For heavy-duty applications, we would highly recommend considering a mechanical abrasive recovery system.
Furthermore, the dirty media mix travels through injectors located at the bottom of each hopper to enter the vent duct. The orifice of the injectors is very narrow in order to avoid suction loss. Consequently, the injector could clog very easily if the application produces relatively large foreign particulate matters such as rust, scale, paint chips, wood chips, etc.
To resolve that issue, our pneumatic blast room recovery systems are delivered with a rod tool to force down the media mix when a hopper section clogs and overloads. However, this requires special attention and could result in short downtimes for applications that produce a lot of large contaminants.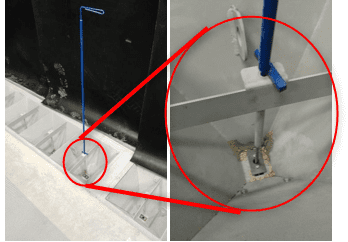 AVAILABLE PNEUMATIC ABRASIVE RECOVERY SYSTEMS
IST offers three different variations of the pneumatic sandblasting reclaim system to accommodate a large variety of applications. All of our systems can be tailored to your specific process objectives and installation constraints.
The MSW1200 Pneumatic Floor Recovery System is a very affordable solution with limits on the length of the recovery hoppers (max. 10 feet), and which can only handle light media (heavy media like steel grit cannot be conveyed). This blast recovery system is designed for light-duty applications that do not produce large contaminant pieces.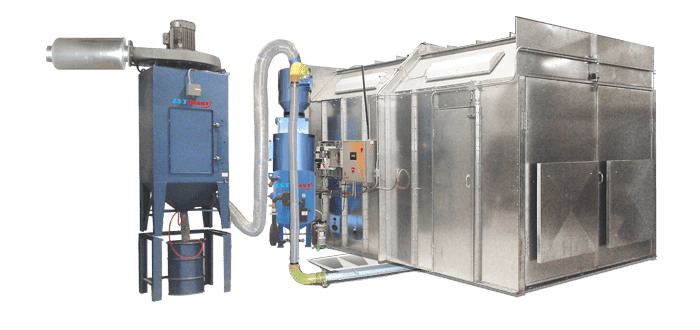 The MRS200 Pneumatic Floor Recovery System is an efficient and inexpensive solution for recovering used abrasive with minimal effort from the operator. It offers various floor hopper layouts and allows for longer hopper length compared to MSW1200. It can handle all major light-to-heavy abrasives available on the market except steel grit GH-36 or bigger and steel shot S-230.
This system is recommended for 8-hours-a-day blasting operations and is suitable for a large variety of applications. It provides a cost-effective alternative to the Mechanical Abrasive Recovery System when budget is limited.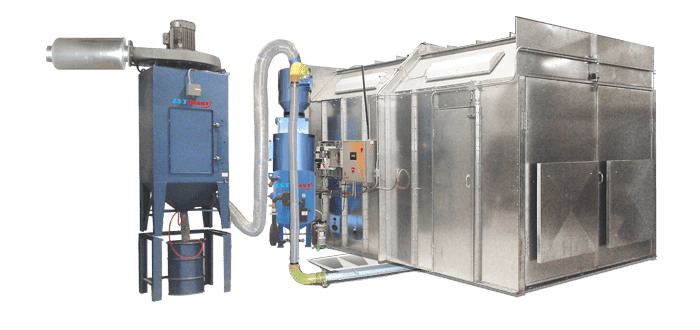 The MRS500 Vacuum Recovery System uses a vacuum head to suck in residual abrasive from large tanks and hard-to-spill reservoirs. This system does not use floor hoppers, which requires less care and maintenance and makes it very inexpensive and easy to implement.
This solution is designed specifically for applications where residual abrasive media is confined in cavities or cannot be "economically" shovelled into recovery hoppers. Otherwise, the floor-cleaning process using a vacuum head is counterproductive and very long to perform. For installations where excavation is not possible, we would recommend a MSW1200 or MRS200 with an above-floor installation.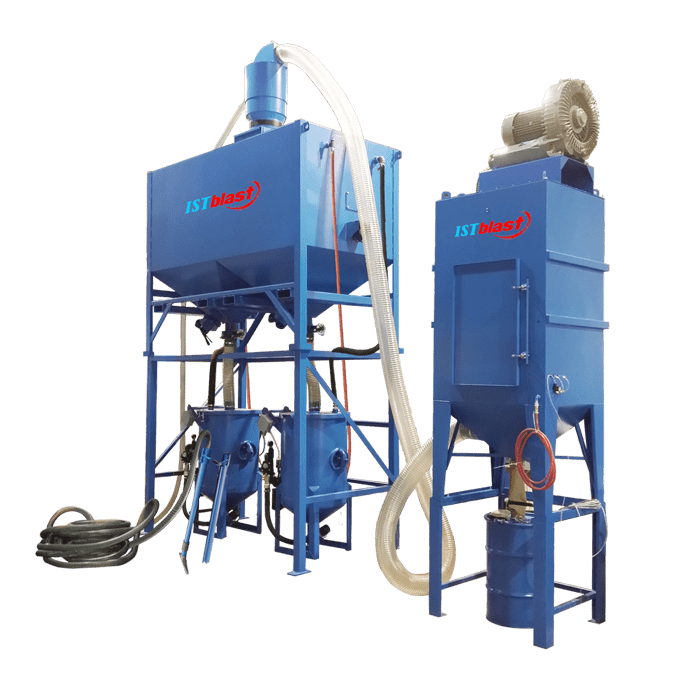 Hybrid Pneumatic/Mechanical Recovery System
If your application is compatible with a pneumatic abrasive recovery system, but you are looking for enhanced productivity through more floor hopper coverage, a hybrid pneumatic/mechanical recovery system can be a good fit for your needs.
ISTblast's hybrid recovery system uses a screw conveyor floor hopper system to collect residual abrasive, which then connects to a pneumatic blast recovery system to handle the media/dust separation. The advantage of that system is that it increases the floor coverage with practically unlimited floor designs offered by screw conveyors without the cost of a mechanical recovery system, and especially without the space required for such an installation. Indeed, a mechanical media recovery system requires excavation down to 5 feet below floor level and a ceiling clearance of at least 18 feet for the bucket elevator installation.
Read more about the Hybrid Pneumatic/Mechanical Recovery System.
Still unsure which system is the most suitable for your application?      
CONTACT ONE OF OUR EXPERTS TO HELP YOU CHOOSE THE RIGHT SYSTEM FOR YOUR NEEDS