ISTblast standard blast booth enclosure consists of modular 14-gage galvanized steel panels that can be easily assembled with supplied bolts and nuts. The walls and roof are supported by structural beams tailored to the room size and the required bearing capacity.
Different industrial-grade steel gages are available upon requests for larger rooms. Steel panels are available in natural galvanized steel or powder coated finish.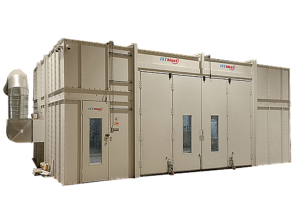 Product Entry/Exit Door
The sandblast enclosure is supplied with at least one standard access door. Optional bifold or trifold access doors are available when floor space is a constraint. Drive-thru sandblast rooms are available with an additional door at the opposite end of the room when production layout requires it.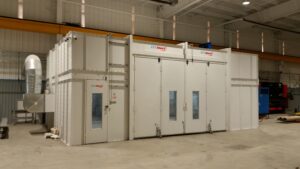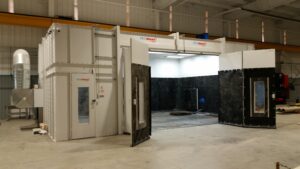 Optional heavy-duty rubber roll-up door system is also available for limited space installations or to speed up the opening/closing door procedures.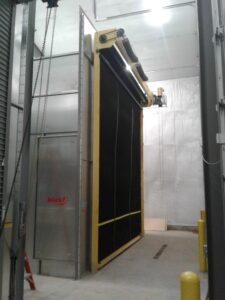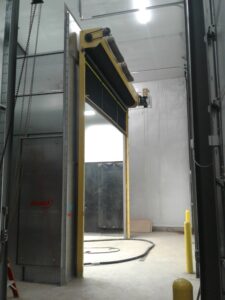 Personnel Man Door for Sandblast Room
Personal doors and observation windows come standard 36″ x 84″ to facilitate access to the sandblast room as well as to increase the blasters' safety in case of emergency. Depending on the size of the sandblasting room, additional personnel man doors may be required.