IST offers a variety of pre-engineered ergonomic solutions to increase comfort and reduce the risk of fatigue or injury when working with the blast cabinet for several hours. Available only with the M Series Industrial Blast Cabinets range.
No-Contact Foot Pedal Kit for Blast Cabinet
The no-contact foot pedal significantly reduces strain on the operator's back. This innovative pedal allows you to operate the blast cabinet by simply sliding your foot inside the pedal box. The laser signal detects the foot and activates the blasting operations. Traditional foot-operated blast guns require the operator to step on the pedal, which causes fatigue and back pain when working for an extended period of time.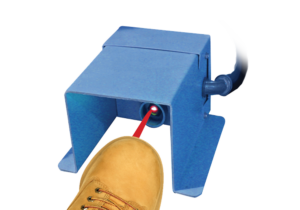 Blast cabinet Wide Opening Gloves
Gloves with a wide opening and oval-shape gloves are ideal for blast cabinets used by several employees of varying sizes. This one-size-fits-all glove openings allows every single operator to work at optimal height, without causing fatigue on the shoulders and back.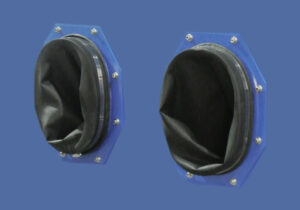 Tilting Turntable
When working on relatively large or complex parts, a tilting worktable can facilitate access to hard-to-reach blind spots. It also helps the operator to maintain an ergonomic posture while working around the part.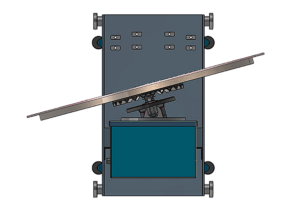 Elevating Work Platform
Our self-supporting lifting platform provides the ideal working height for any worker to work long hours without fatigue. This platform is operated by an electric motor available in all voltages.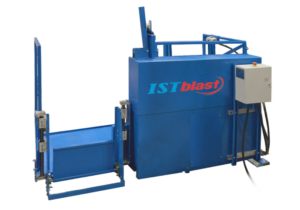 Adjustable Armrests
Adjustable armrests easily fold to the cabinet to save floor space. They allow the operator to blast in a more comfortable posture, reducing back stress caused by long hours of working with extended arms.