IST offers a variety of pre-engineered automation solutions for manual blast cabinets. These auxiliary systems are designed to increase the efficiency and productivity of surface treatment processes for various parts with similar shapes or sizes. They can be used along with the manual blasting process.
Fixed Nozzle Support
A fixed blast gun holder with adjustable height frees the operator's hands when blasting. It can also be combined with a rotating shaft or conveyor to turn your blast cabinet into a semi-automated finishing system.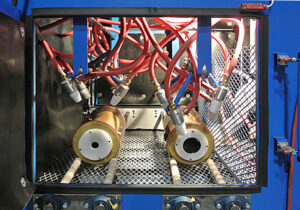 Tumbling Basket
When combined with a fixed nozzle holder, the rotating basket with timer increases the quality and processing speed for batches of smaller parts. By exposing parts randomly and evenly to the blast stream, you can achieve a consistent surface treatment quality in a faster process.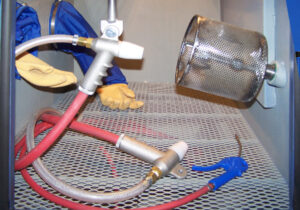 Rotary Head
The rotary head system consists of a set of nozzles (usually between 4 and 8 nozzles) mounted on a rotary head which spins over parts. This allows for perfect coverage of parts' top surfaces, and these can then be turned over to expose the bottom surface.
When in sync with a motorized turntable, it turns your blast cabinet into a semi-automated finishing system. The rotation speed of both the rotary head and the turntable can be adjusted to personalize the process.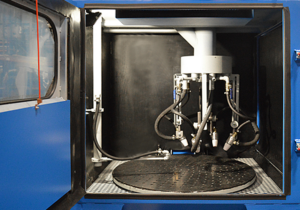 Oscillating Nozzles that move on a horizontal or vertical axel
A set of nozzles mounted on an oscillating shaft can be combined with a conveyor, a tumbling basket, or a motorized turntable to automate the finishing process of various parts.