If you are dealing with heavy parts or wish to facilitate the handling of your parts during blasting operations, IST has you covered with several parts handling solutions.
Manual Turntable
A turntable facilitates the handling of heavy parts that need to be turned during blasting operations. It also protects your parts from damage caused by friction with the cabinet's floor.
IST's turntables are rated for a load capacity of 250 to 2,000 lbs.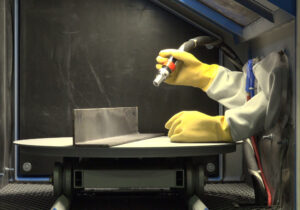 Wheel Cart
Turntables can also be mounted on a wheel cart to facilitate the loading/unloading procedure. Rolling the turntable outside of the cabinet allows for better access when placing the parts and helps to prevent injuries by keeping the weight closer to the body gravity centre.
Parts can also be loaded using a chain block or other lifting devices.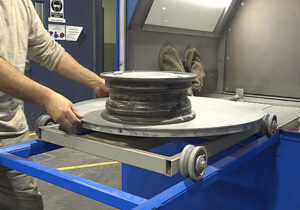 Motorized Turntable
Motorized turntables are mounted on a rotating shaft with adjustable speed. A standard model is rated for a load capacity of 500 to 2,000 lbs. Motorized turntables can be used in manual operations or combined with a rotary head system or nozzles mounted on a support to turn your blast cabinet into an automated finishing system.
The control of the motorized turntables can be available with a push button or integrated into a control panel available with a HMI touch panel.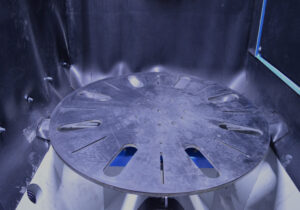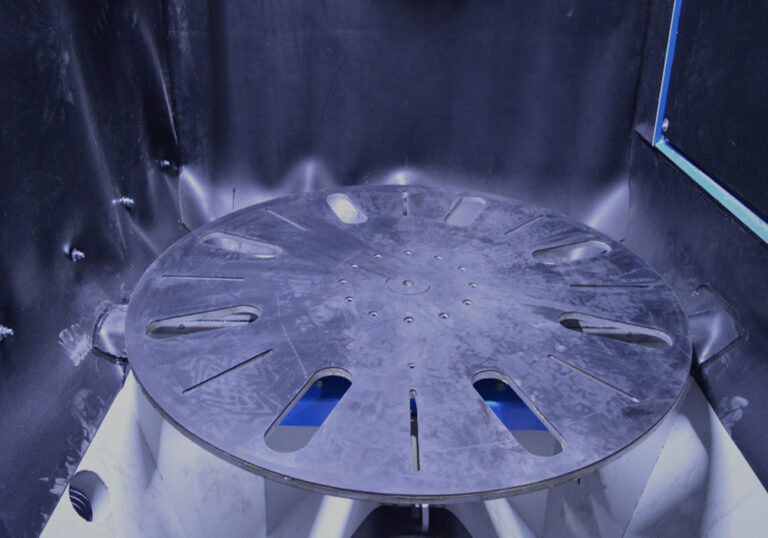 Motorized Cart
A motorized cart is recommended in order to facilitate and reduce the level of effort needed when loading/unloading heavy parts. Parts can be placed on the cart using a hoist and loaded effortlessly into the blast cabinet by the simple push of a button.
Motorized carts are also widely used in our automated finishing system in synchronization with a robotic arm.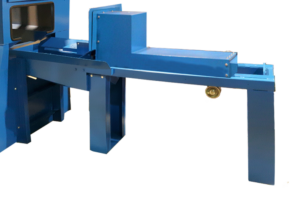 Chain Block Slot
If you are dealing with extremely heavy parts that you usually handle using a hoist, your blast cabinet can come with a pneumatic door which allows you to enter a chain block in order to grab your parts.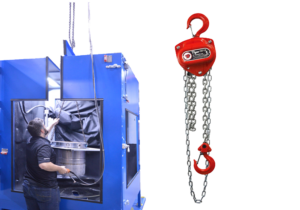 Parts Handling Robot
Large production plants can benefit from the integration of Parts Handling Robots to automate the most tedious and unsafe tasks in a production line. Robots can also be used to expose parts at an ideal angle and distance from the blast stream during the blasting process.