Cartridge-type dust collectors are much more efficient than bag-house dust collectors due to their nanofibre filtering cartridges. They are used in high-volume applications, heavy-duty blast cleaning, automated finishing systems, and blast booths of any size.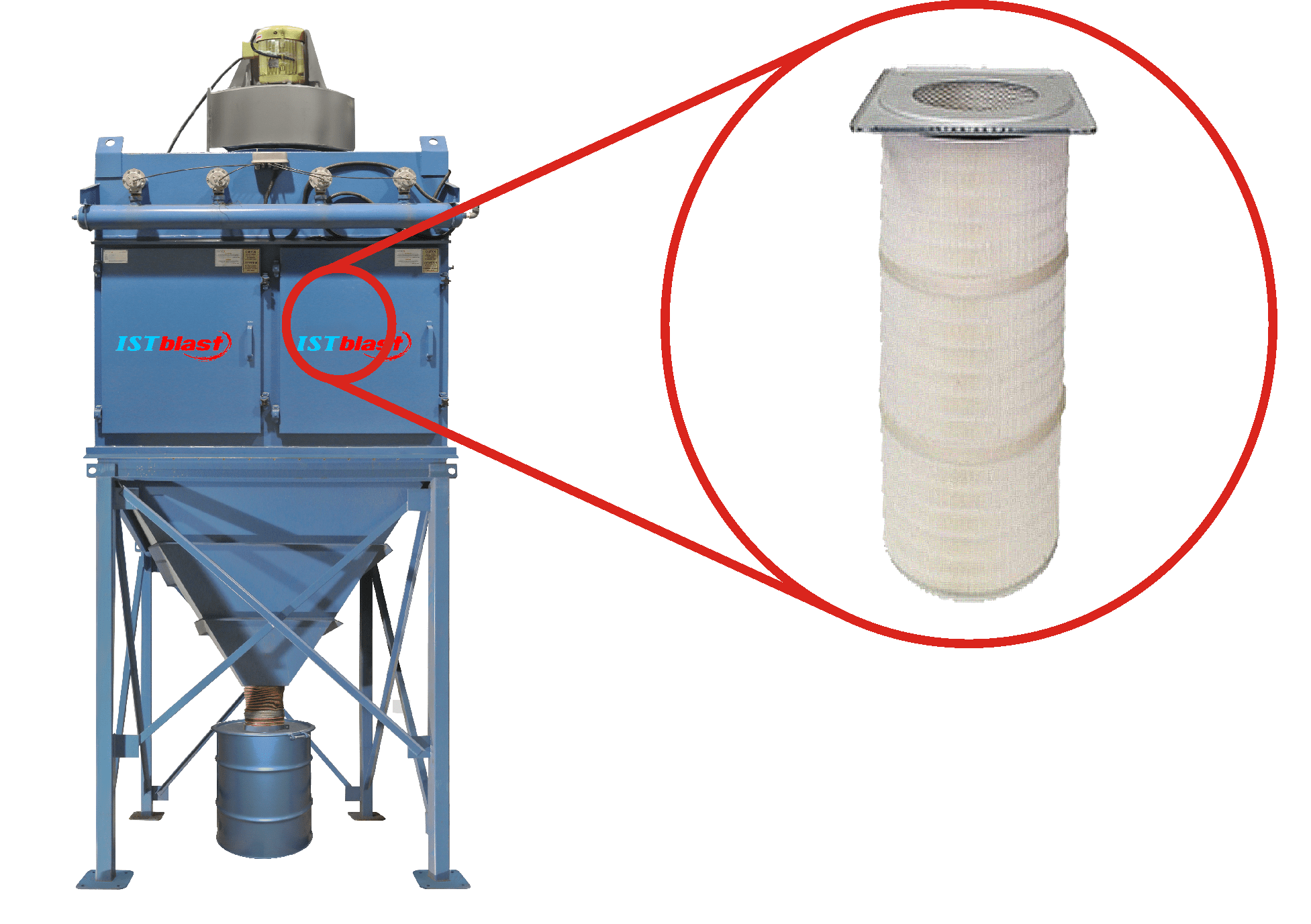 ISTblast cartridge dust collectors are available in two series:
The DCM600-1800 Series is suitable for industrial sandblast cabinets and automated finishing systems. Impellers are available in a range of 600 to 1,800 CFM.
The DCM2000-50000 Series is a modular system designed for blast booths and permanent sandblasting facilities. Standard impellers are available in a range of 2,000 to 50,000 CFM. Higher-velocity systems can be customized upon request.
These dust collectors feature a heavy-duty impeller, driven by an electric motor available in different voltages. The fan motor is located on the clean side of the dust collection system, which significantly increases its performance and its service life. Soft start systems meant to minimize operational costs are also available.
All series come fully equipped as a standard, which includes the dust collection drum and its airtight connection, an automatic cartridge cleaning system controlled by a timer, and a horizontal silencer.
Cartridge dust collectors use nanofibre cartridge media to filter out dust and airborne particles generated during the sandblasting process. Filter cartridges are capable of capturing 99.9% of particles down to 0.35 micron (µm) or over.
How It Works
Cartridge dust collectors have a fan mounted on top of their housing to move contaminated air from the blast system into the dust collector.
Inside the dust collector, a set of pleated filtering cartridges is used to capture dust and airborne contaminants (rust, paint chips, etc.), while only clean air is exhausted out through an outlet plenum located on top.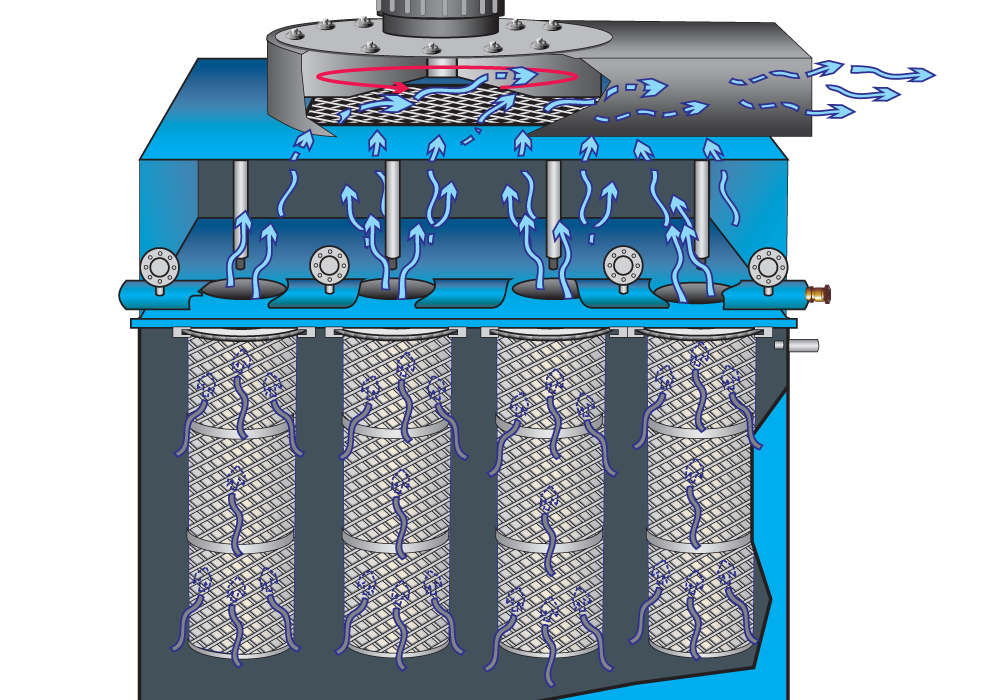 Maintenance of a Cartridge Dust Collector
Cartridge dust collectors require only minimal supervision and maintenance. They are durable systems made to last for years if they are used correctly.
They are fairly easy to maintain and only require you to regularly empty the dust barrel and replace the clogged cartridges when they reach the end of their service life. Cartridge filters need to be replaced every few months to a year, depending on their condition and the application.
Collectors are usually equipped with a sieve drawer which traps larger debris. The debris drawer must be emptied often to avoid clogging and air flow restriction.
ISTblast cartridge dust collectors are equipped with a controller that will not only tell you when to replace the cartridges, but will also trigger the cleaning system of the cartridge in use so that the operator does not have to worry about this.
Cartridge Dust Collector Cleaning System
The cartridges are cleaned by a series of reverse pulsations induced by Goyen valves. The air blast is evenly distributed all over the inner surface of the cartridges, forcing the release of dust and particles which then fall to the bottom of the collector where they can be collected in a bin.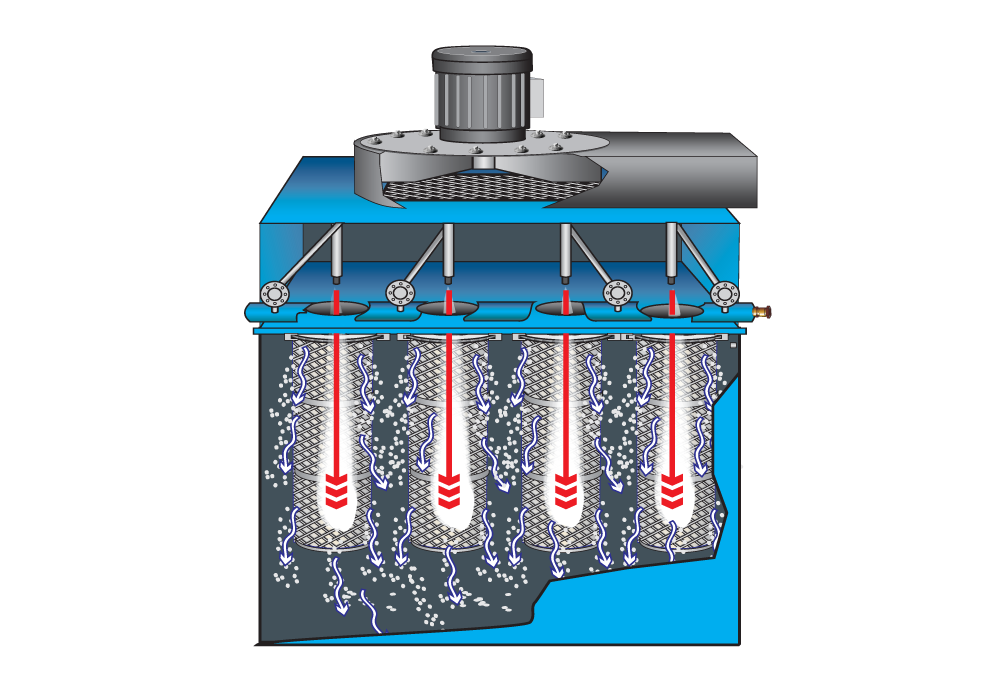 ISTblast – Cartridge-Type Dust Collector – Cleaning Method
The pulsation sequence is automated by the DCT1000 controller, which monitors the air flow restriction caused by the saturation of the cartridges and triggers the cleaning cycle when needed. The DCT1000 Sequential Controller can be adjusted to maximize the service life of the cartridge media.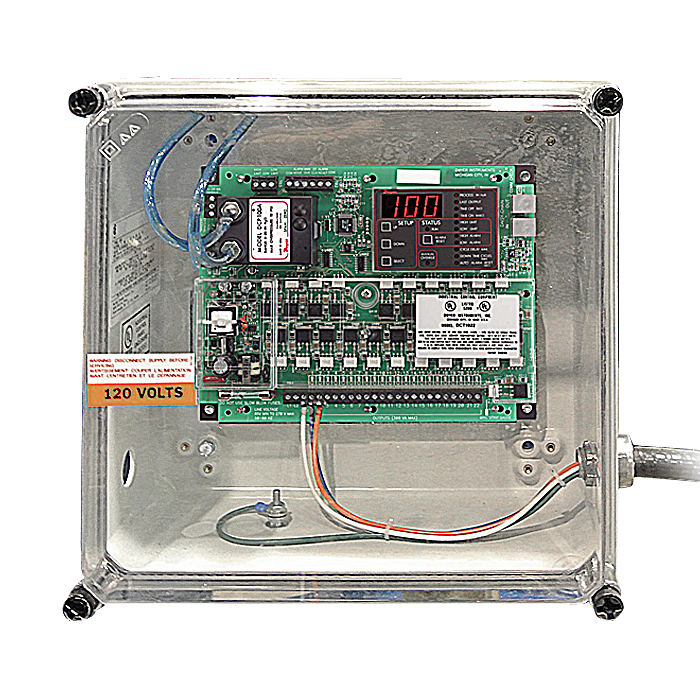 ISTblast – Dust Collectors – DCT1000 Timer Controller
Air flow restriction is obtained by comparing the static pressure differential in inches of water column (inch WC) between the clean side and the dirty side of cartridge filters – the so-called pressure drop. As the filters become loaded with dust, resistance to the air flow increases, and so does the pressure drop.
Unlike other types of dust collectors such as bag shakers, cartridge dust collectors do not need to be stopped in order to remove dust particles from filters. The process occurs continuously and automatically.
Vertical Design of ISTblast Cartridge Dust Collectors
Unlike conventional horizontal-design dust collectors where cartridges are mounted horizontally and lose up to 30% of their filtration capacity, the vertical design of ISTblast dust collectors allows the dust to fall freely, straight down to the bottom of the unit, in order to maintain 100% efficiency at all times.
Also, vertical-design dust collectors are practically maintenance-free, as opposed to horizontally-mounted cartridges which need to be rotated periodically to extend their service life.
Location of the Dust Collector
Dust collectors can be installed inside (under some conditions and in accordance with the fire code in force in your jurisdiction) or outside of the building.
When the application generates combustible dust, installing the unit or returning filtered air inside the building is usually forbidden.
However, ISTblast offers a variety of NFPA-approved safety designs and features to prevent fire or explosion during operation.
Contact one of our experts today to evaluate the best options for your application.