Specially designed to remove rust and scale from exterior surfaces of plate, flats, and structural members prior to fabrication.
ISTBlast also offers full line of machines for cleaning and blasting plate and structures, including the RT 4018.
Custom engineering also available.
OTHER MODEL & OPTIONS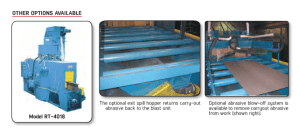 KEY FEATURES
Dual direction, powered roller-table conveyor system
Variable foot rate adjustable for different surface finishes, from SSPC-7 brush-off finish to SSPC-5 completely white metal finish
Typical 2-20 linear feet per minute cleaning cycle times
Pre-run and fully tested prior to shipping
2 abrasive isolation vestibules buffer workplace from errant abrasive
Air wash separator has lip-type, hinged and counter-weighted spreader to ensure even distribution of abrasive across airstream. Separator vent has contaminant refuse-trap and slide gate to control static pressure within separator.
High speed sanding wheels able to project abrasive 300 ft per second
Blast cabinet lined with manganese and replaceable 1/2"-thick cast chrome blast pads for durability and low maintenance.