ISTblast blast systems Tumble Basket Blaster models 202 – 318 are designed for rapid, economical, airless shot blast cleaning, and range in capacity from 2.5 to 22 cubic ft.
OTHER MODELS AVAILABLE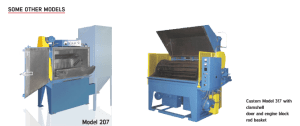 KEY FEATURES
Auxiliary abrasive hopper and low-level sensor.
PLC controls. Dust collection system.
Rotary scalp drum.
UL approved electrical panel.