Sandblast Booths (Blast Booths or Abrasive Blast Rooms) provide the ideal confined environment for an abrasive blasting operation of relatively large pieces or for high-productivity sandblasting. They are designed to optimize the sandblaster's productivity while reducing downtimes as well as the cost of operation and maintenance of sandblasting-related equipment.
COMMON SANDBLAST BOOTH APPLICATIONS
| | |
| --- | --- |
| | |
| AUTOMOTIVE BLAST BOOTH | MOVABLE FLOORING ON RAIL |
| | |
| INDUSTRIAL BLAST BOOTH | SANDBLAST BOOTH AND SPRAY BOOTH INTEGRATED SYSTEM |
| | |
| DRIVE-THRU BLAST BOOTH | OUTDOOR SANDBLASTING FACILITY |
ABRASIVE BLAST BOOTH DESIGN AND CONSTRUCTION
Blast Booths consist of a few key components and layout options which will be discussed below.
Booth Enclosure
Abrasive Media Recovery System
Pressure Blasting Machine
Dust Collection System
Operator Protection and Safety Features
BOOTH ENCLOSURE
The ISTblast standard blast booth enclosure consists of modular 10- or 14-gauge galvanized steel panels. They can be easily assembled with supplied nuts and bolts. The walls and roof are supported by structural beams tailored to the room size and the required bearing capacity.
Different industrial-grade steel gauges are available upon request for larger rooms. Steel panels are available in natural galvanized steel or powder coated finish.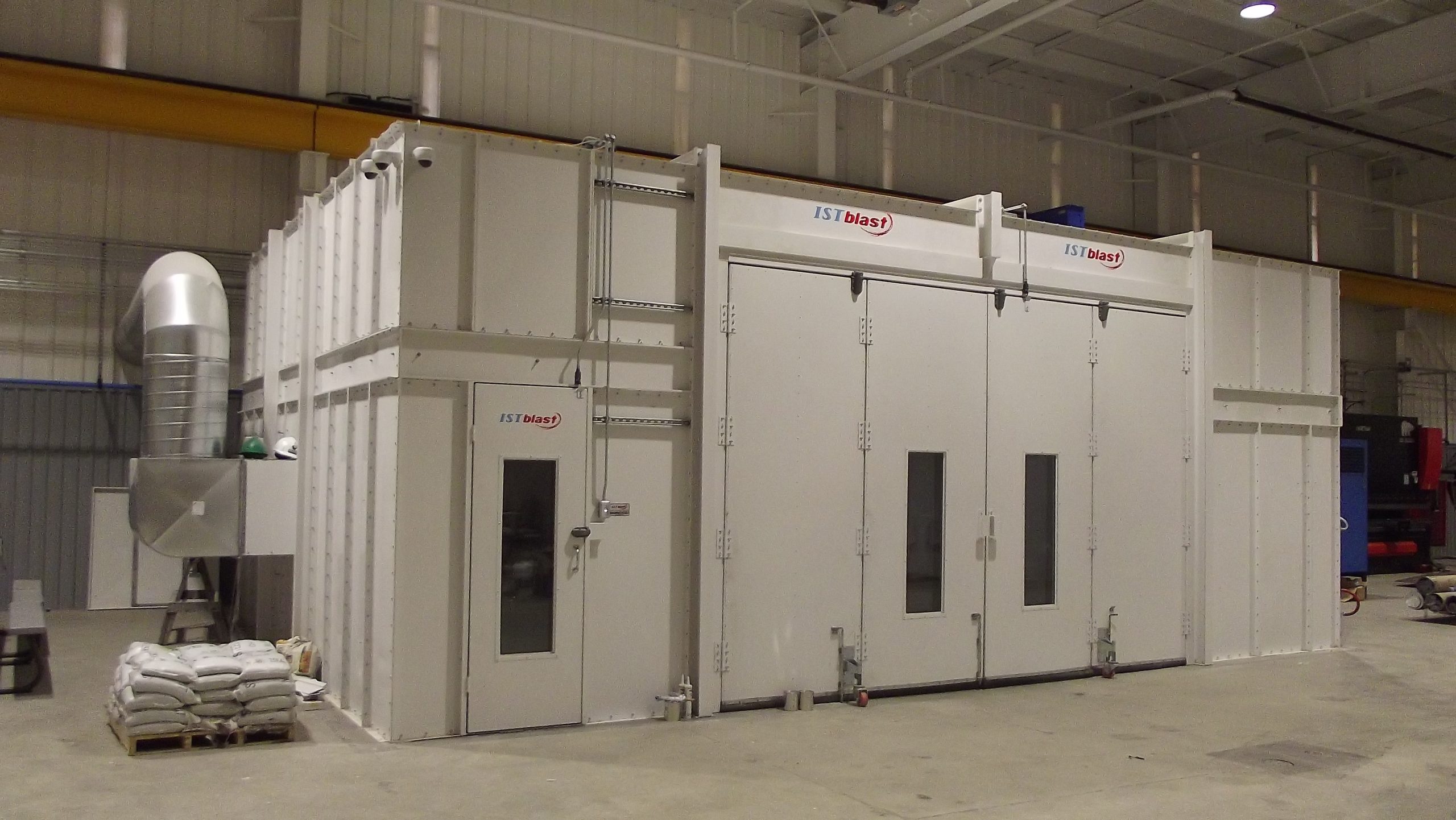 Rubber Lining for Interior Panels
Rubber lining protection is available for interior walls and doors for long-lasting life. Without lining protection, blast streams could rip off the functional coating from panels and cause premature wear and corrosion on the surface. ISTblast's exclusive rubber lining design makes it easy to install and replace the rubber sheet as the room ages.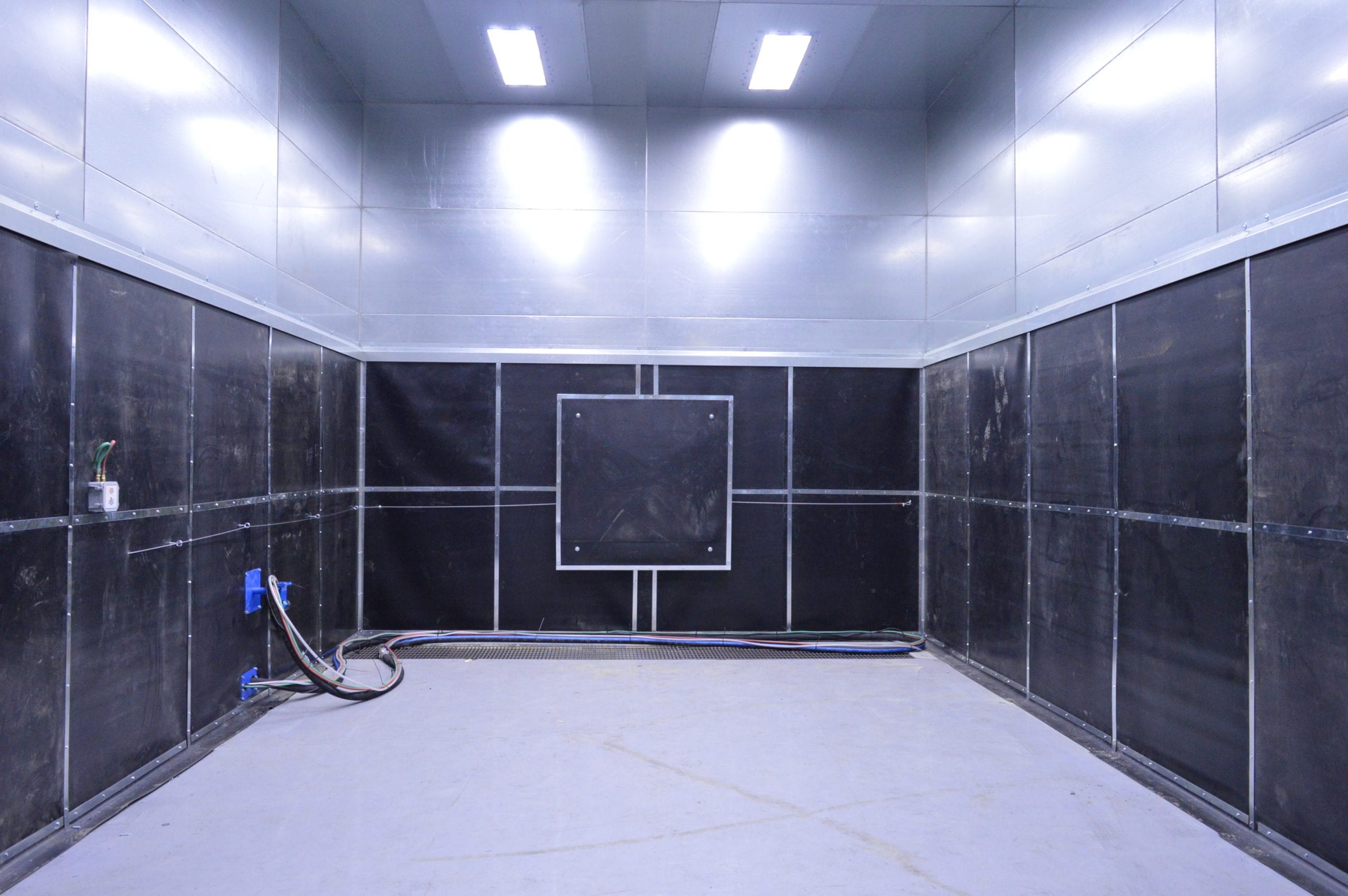 Product Entry/Exit Door
The sandblast room is supplied with at least one standard access door.
Optional bifold or trifold access doors are available when floor space is a constraint. Drive-thru sandblast rooms are available with an additional door at the opposite end of the room when required by production layout.
Optional heavy-duty rubber roll-up door system is also available for limited space installations or to speed up the opening/closing door procedures.
Personnel Man Door
Personnel doors and observation windows come in standard 36″ x 84″ to facilitate access to the sandblast room. They also increase the blasters' safety in case of emergency. Depending on the size of the sandblasting room, additional personnel man doors may be required.
| | |
| --- | --- |
| Outside the room | Inside the room |
LED Lighting System
The abrasive blast room is lighted with a high-efficiency Hi Bay 18,000 lumens LED lighting system. ISTblast's unique light design allows for one-man installation, cleanup, and replacement of the light from inside the room. No need to climb up on the roof nor allocate two resources for servicing or cleaning the light.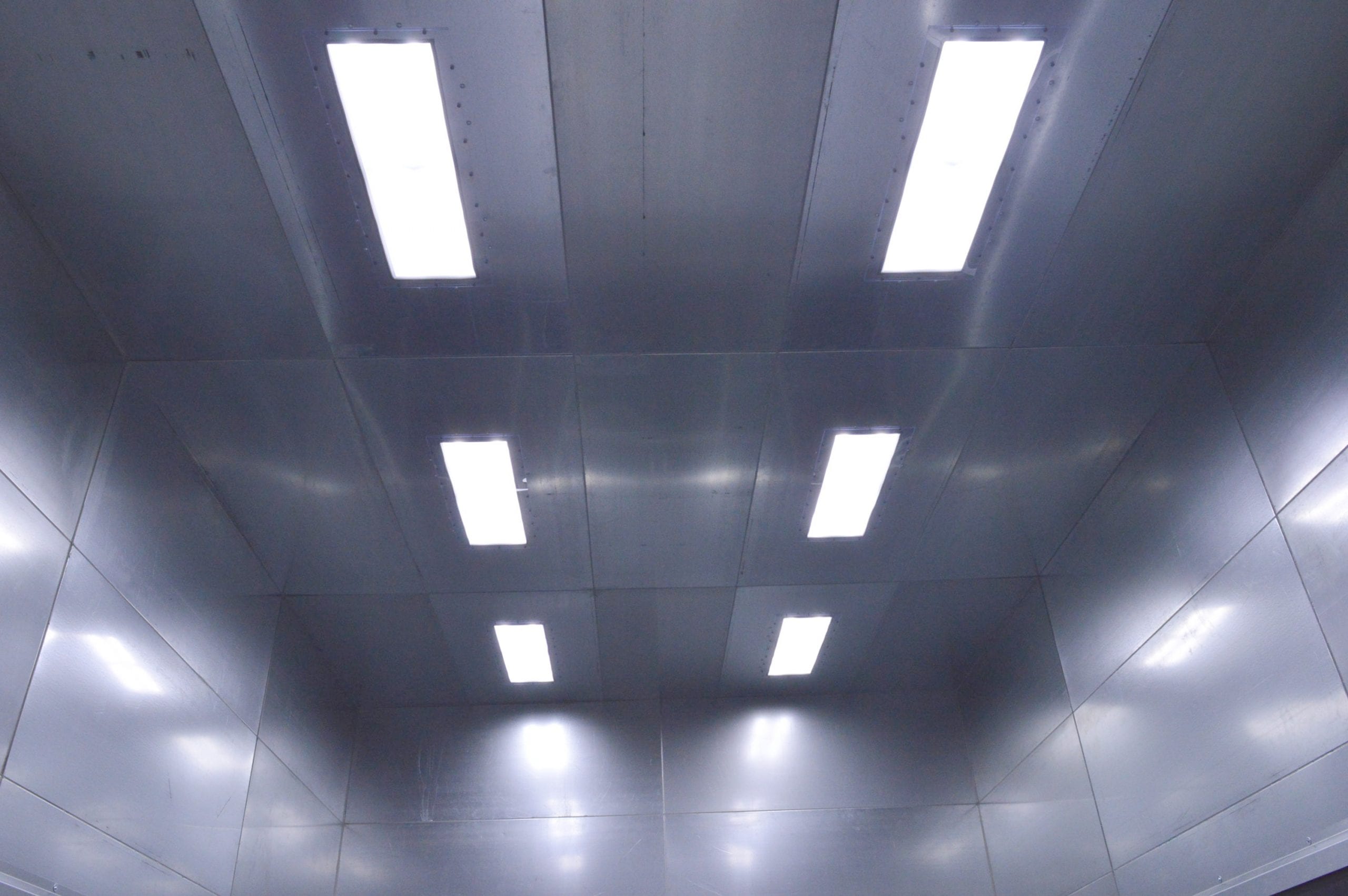 PLC with HMI User Interface
The operation of critical components is fully automated by a Programmable Logic Controller (PLC) and interfaced with an intuitive Human Machine Interface (HMI) touch panel.
A maintenance program integrated into the system will prompt message reminders when it is time to perform a check or maintenance routine on components such as the dust collector, abrasive recovery system, etc.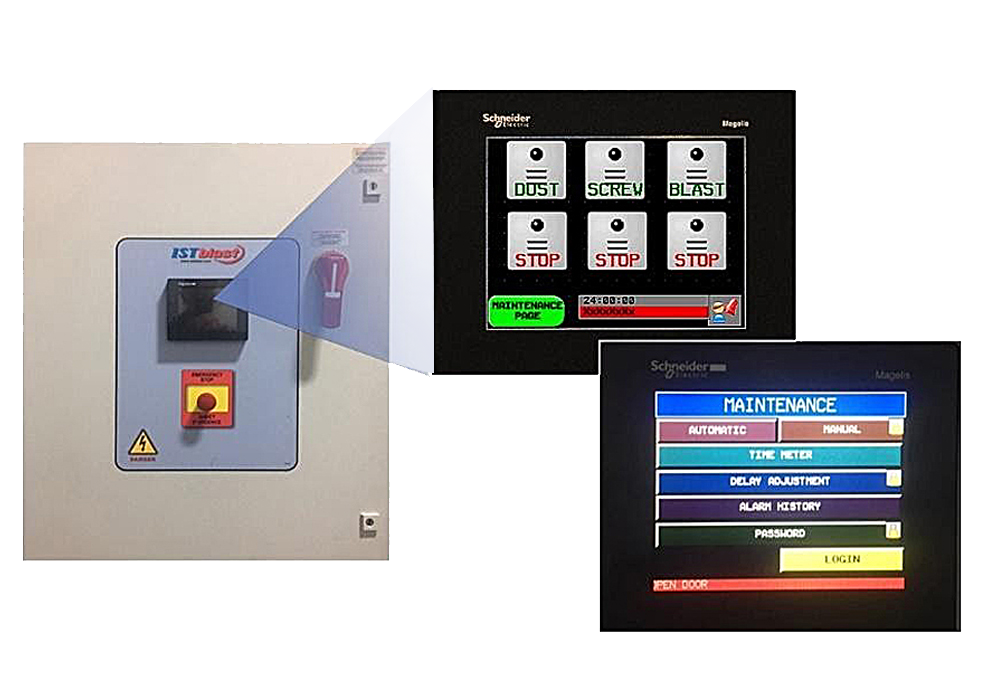 ABRASIVE MEDIA RECOVERY SYSTEM
The abrasive media recovery system efficiently reclaims and recycles used blast media after blasting process. First, it collects residual abrasive media remaining on the floor after blasting operations. Then, it moves it to a media reclaim system where dust and foreign particle matters are filtered out and diverted away to the dust collector. Then, only media in good working condition is returned to the pressure blast pot.
The key advantage of the media reclaim system is achieving substantial savings and protecting our planet by considerably reducing our abrasive media consumption. According to the application and the type of media used, recycling rates of over 95% can be achieved.
Here is what you need to know about choosing the right media recovery system for your application.
Floor Recovery Hoppers Installation
After blasting operations, used abrasive media must be swept or shoveled into recovery hoppers. Hoppers may be excavated into the floor or installed over the floor in surface installation.
Excavated or Above-Ground Installation?
Above-floor installations do not require any excavation, but they require much more effort from the operator who must shovel the blast media into the pit rather than simply pushing it into the excavated hoppers located below floor level.
| | |
| --- | --- |
| Excavated Floor Installation | Surface Installation |
Dimensions of Recovery Hoppers
Dimensions of recovery hoppers can vary from 10 feet in length for compact installations to over 200 feet for high throughput industrial blasting facilities.
Steel Grating Protection
Floor hoppers are protected by removable steel grating rated to 1,000 lbs. per square foot. Other capacities are available to allow lift trucks and other material handling equipment to circulate over them.
Underneath the steel grating, a mesh screen allows for the collection of large debris before the enter the recovery system.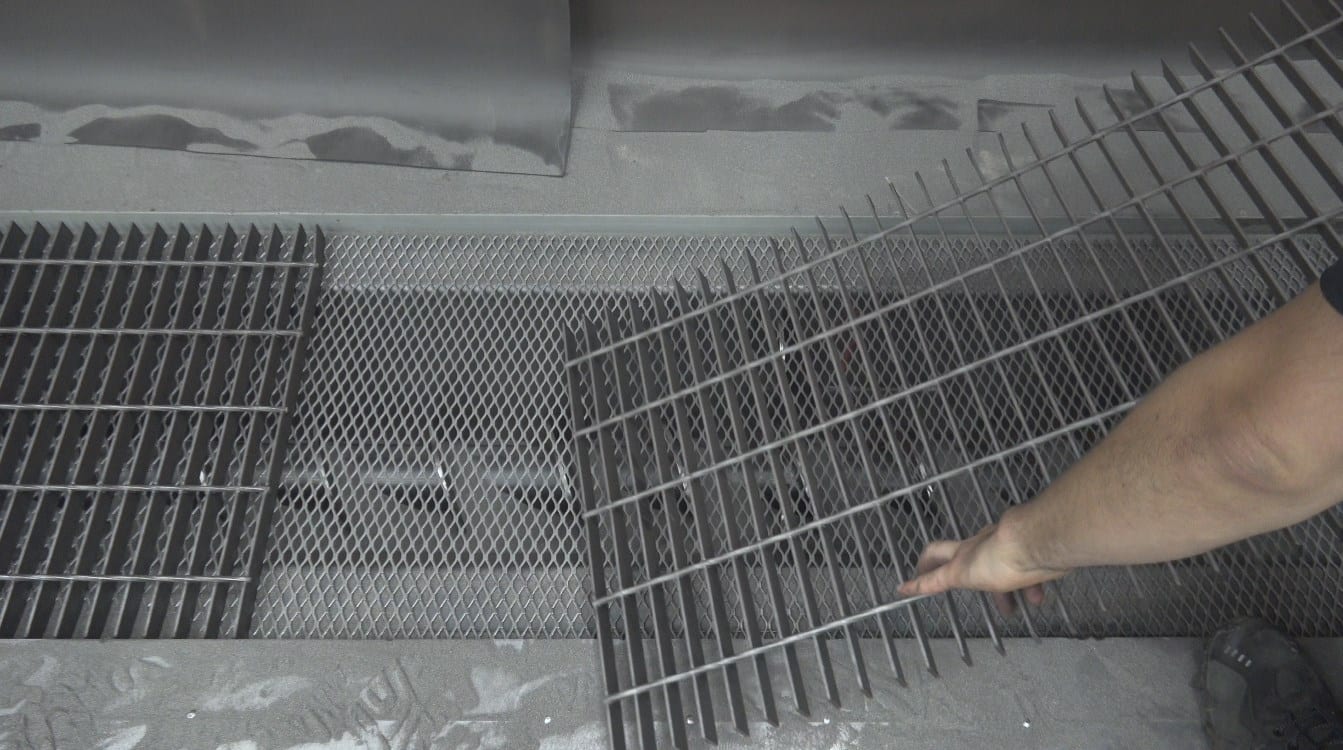 Floor Coverage of Recovery Hoppers
Complete in-floor hoppers (excavation required) are more expensive, but they provide an automatic and continuous recycling of the blast media without the need to load the collection hoppers manually.
On the other hand, partial floor hoppers and corners require the operator to sweep or shovel the abrasive media into the hopper.
What is the Ideal Floor Recovery Hoppers Layout for my Application?
Depending on your application, abrasive media, available production space, and budget constraints, there are various types of blast room recovery systems and floor layouts available.
In brief, here are the pros and cons of common layout options.
TYPES OF INSTALLATION
PROS
CONS
HOPPERS INTEGRATED TO THE FLOOR


Easy and fast room cleaning by simply sweeping the abrasive into the recovery pit

HOPPERS ABOVE GROUND


No excavation required
Very cheap to implement

Abrasives need to be manually shoveled into the recovery pit
Loss of productivity

FULL FLOOR


Automatic and continuous recycling of abrasive, without the need and effort to sweep or shovel manually

More expensive to implement
Requires more attention and maintenance (more mechanical components)

PARTIAL FLOOR


Less expensive to implement
Requires less maintenance

Floor hoppers must be loaded manually by the operator
Loss of productivity

MECHANICAL LOADING


Very cheap to implement
Low maintenance
No excavation required

Hopper must be loaded mechanically with a loader
Loader is required
Media Recycling System
Once the blast media is collected, it is then moved to a media reclaiming system where dust, shattered media pieces, and other contaminants are removed, leaving only media in optimal working conditions.
Depending on the application and the abrasive used, approximately 95% of the dirty abrasive media mix will be recovered and returned to the pressure blast pot for further use. The other 5% is simply exhausted to the dust collector and collected in a dust barrel.
Typically, ISTblast offers three standard Abrasive Media Recovery Systems.
| Types of Abrasive Recovery System | Means to collect used abrasive media from the floor | Mechanical Separation of Media and Dust |
| --- | --- | --- |
| Pneumatic | Urethane Suction Pipe | Cyclonic Separator |
| Mechanical | Screw Conveyor & Bucket Elevator | Air Wash Separator |
| Hybrid | Screw Conveyor & Urethane Suction Pipe | Air Wash Separator |
Pneumatic or Mechanical Abrasive Recovery System?
There are several factors to take into account when choosing the right abrasive media recovery system for your application:
Your budget and expected return on investment: Mechanical Systems are more expensive to implement, but they become cheaper on the long term when considering overall process costs of operation and maintenance;
The objective of your sandblasting process: Surface preparation prior to coating versus blast cleaning for removing paint, rust, scale, etc. – the process by-products and contaminants produced are a significant factor when debating between a mechanical or a pneumatic recovery system;
The blast media required for your application: Heavy blast media – such as steel grit and steel shot – cannot be conveyed in a pneumatic abrasive recovery system;
The production space available in the shop: Pneumatic systems require lower ceiling height and smaller footprint compared to mechanical systems;
Whether or not you are allowed to excavate in your building: Excavated mechanical system requires at least a 5 feet excavation for in-ground installation;
And many other factors – such as the expected recovery rate, the frequency at which you plan on cleaning the floor between jobs, whether or not your application is producing combustible dust that must be exhausted outside the building, etc.
Here is a comparison chart of the main factors to be taken into account for making the right decision between a pneumatic, mechanical, or hybrid blast room recovery system.
Pneumatic
Mechanical
Hybrid
Abrasive Media

Light-to-medium abrasive media only (not suitable for heavy media such as Steel Grit)

Can handle all types of abrasive media

Application

Suitable for light-to-medium duty applications (producing few contaminants)
Suitable for small and medium-sized rooms

High-throughput
Harsh applications producing large contaminant pieces
Suitable for small to very large sized rooms

Harsh applications producing large contaminant pieces
Suitable for small to very large sized rooms

Media Recycling Rate 
Advantages

Very affordable solution
Available with vacuum head for collecting residual abrasive from large tanks and hard-to-spill reservoirs
Shallow or no excavation required
Minimum ceiling height must be 13 ft

Large range of floor layouts available – up to full floor without the need to manually load the hoppers
Very durable system that requires minimum supervision and maintenance
Only one room dust collector required

Convenient for installation with height and excavation restriction
Shallow or no excavation required
Minimum ceiling height must be 13 ft

Limitations

Orifice of injectors down the floor hopper is very narrow and could clog easily with large pieces of rust, paint chips, etc.
Floor layout limited to partial floor coverage and corner shoot
Cannot convey heavy abrasive media up to the media separator

More expensive to implement than pneumatic systems, but very productive and low maintenance – so economically equivalent on the long-term
Excavation is required
Minimum ceiling height must be 18 ft

Cannot convey heavy abrasive media up to the media separator
DUST COLLECTION SYSTEM FOR ABRASIVE BLAST BOOTH
All our blast booths are delivered with a high-performance DCM2000-50000 Series cartridge type dust collector.
Standard Filtration Capacity
Standard ISTblast cartridge media is able to capture 99.9% of particles down to 1 µm. Optional cartridge media with higher filtration capacity are available upon request.
Advantage of the Vertical Design Cartridge System
The vertical design of our dust collectors provides more efficient pulsing of dust, eliminating uneven dust loading associated with horizontally mounted cartridges. Also, they require less attention and care since the vertical cartridges do not require rotation to ensure uniform wear on the entire surface.
Automatic Reverse Pulse Cleaning System
This DCM Series dust collector features an automatic, programmable reverse pulse cleaning system for cartridges. The cleaning process is monitored and triggered by means of a digital pressure differential indicator that oversees the deterioration of the cartridge filtering efficiency.
Easy Maintenance
The cartridge replacement process is effortless and accessible by the front door. The operation and the cleaning process of the dust collector are fully automated and controlled by the sandblast booth PLC.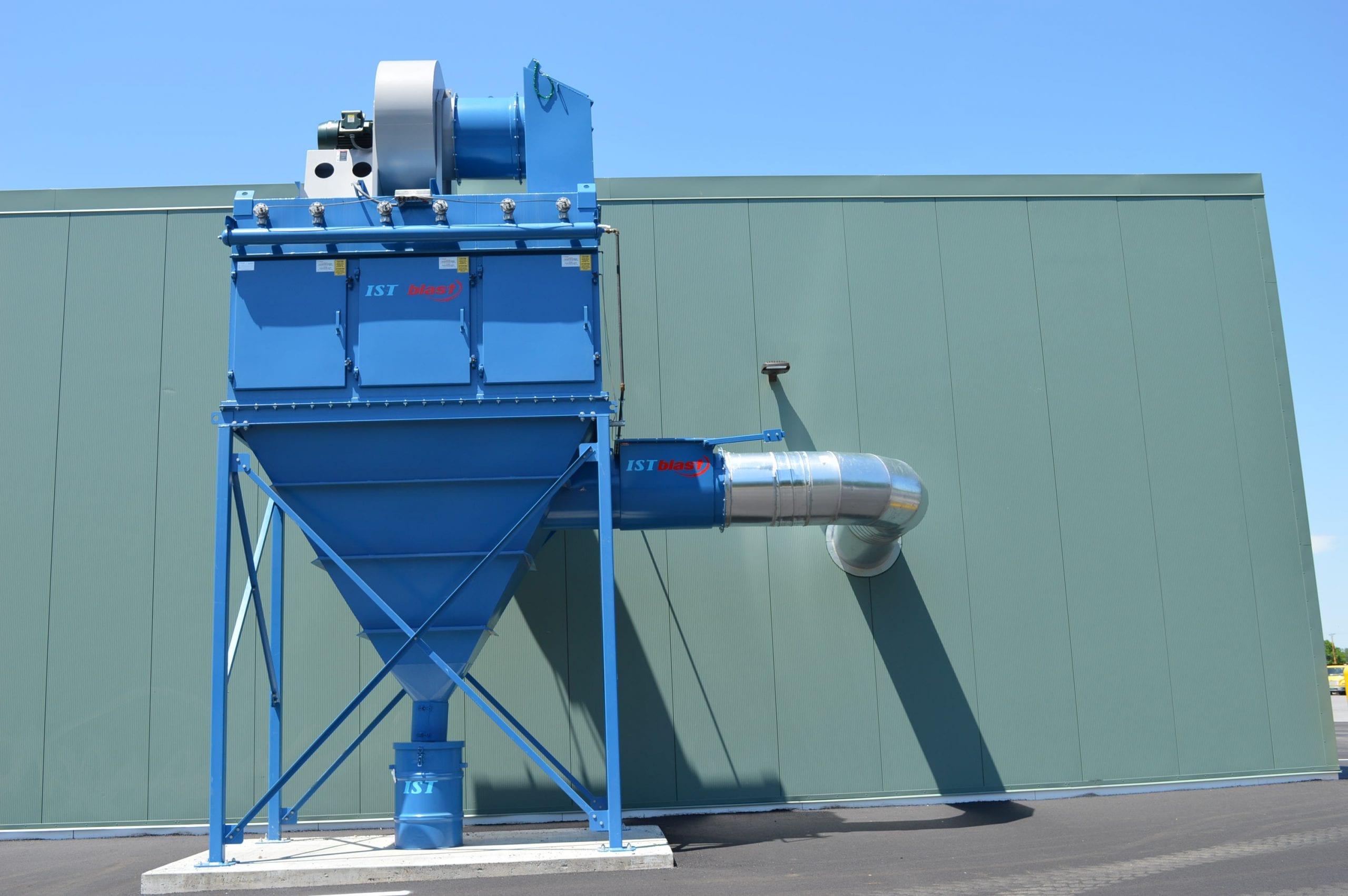 Airflow Inside the Sandblast Room
The main access door is usually fitted with two air inlet plenums, and the opposite wall has an outlet plenum to allow even air circulation from one end of the abrasive blast room to the other.
| | |
| --- | --- |
| Air Inlet Plenums | Air Outlet Plenum |
Air inlet and outlet plenums are equipped with adjustable deflectors to maintain a well-balanced airflow inside the sandblasting booth. Airborne contaminants travel through a ductwork linking the outlet plenums to the dust collector, where it can be collected into a dust barrel.
An even airflow provides great visibility to the blaster by drafting away the dust cloud generated from the impact of the blast media onto the workpieces. It also helps reducing premature wear on mechanical components.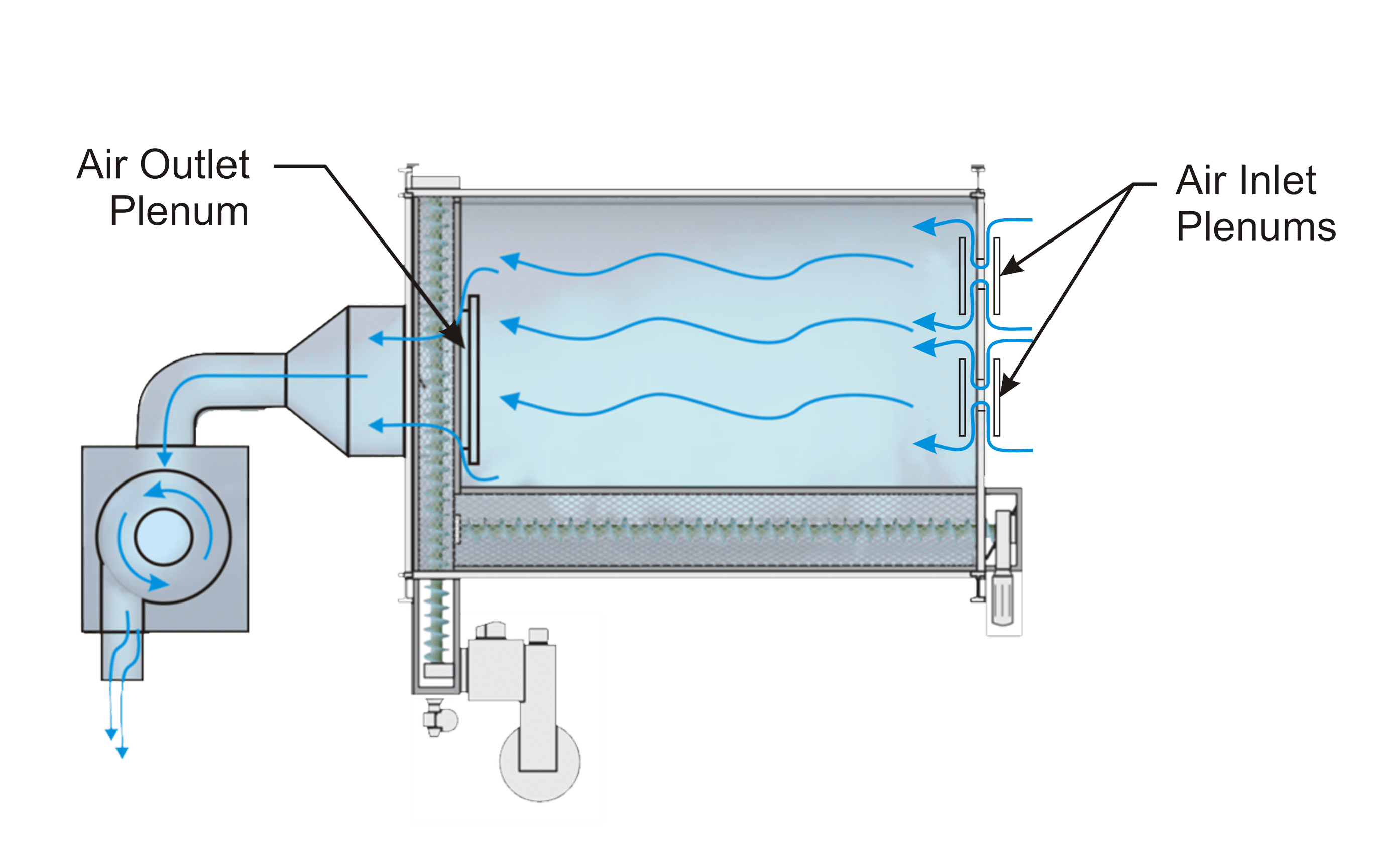 PRESSURE BLASTERS
ISTblast offers a wide range of Pressure Blast Pots for new and existing blast booth installations. Available with tank capacities ranging from 3.5 cu. ft. to 10 cu. ft., they can accommodate one or two operators at the same time.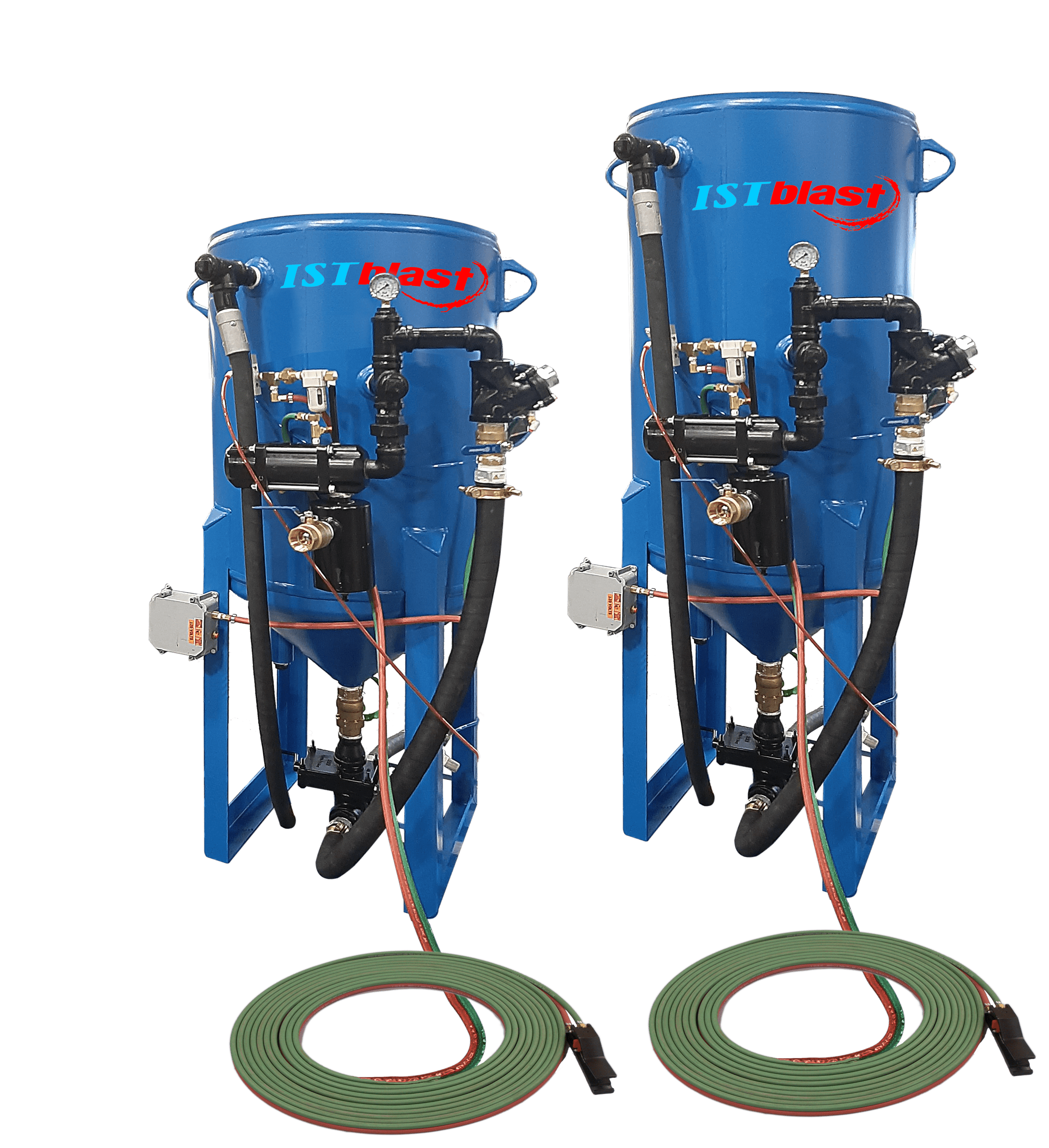 In most installations, we are able to fit a storage hopper between the media separator and the blast pot to provide long hours of blasting autonomy. Blasting facilities can be designed to allow up to four operators to blast at a time.
Pressure Hold or Pressure Release System for Pressure Blast Pots?
In the field, most pressure blasters are Pressure Hold Systems meant to increase the blaster's productivity by maintaining the pressure inside the blast pot when the Deadman control is released. Otherwise, each time the remote control is released and re-engaged, the system would take 10-15 seconds to build back the pressure needed to produce an effective blast media stream. This results in downtimes, loss of productivity, and inefficient consumption of compressed air.
On the other hand, the blast pot has a certain blasting autonomy. Once it runs out of media, it must release its pressure in order to allow the plunger fall down and refill the tank with abrasive media. In the Pressure Release System, this occurs every time the Deadman control handle is released. But really, how frequently do you need to refill the pot during a job?
So, which system is better for a sandblast room? The answer is BOTH! 
The Double Control System has all the advantages of both systems. It maintains the pressure when the Deadman control is released to facilitate frequent start/stop operations. It also allows the operator to release the pressure and refill the pot from a switch located inside the sandblasting booth, without the need to remove safety equipment and reach for the depressurization valve manually on the blasting machine located outside of the blast booth.
RC-176 Pressure Release System
RC-186 Pressure Hold System

Pressure vessel automatically depressurizes when the remote control is released
Automatic filling of the pressure vessel, without any intervention
Less wear-and-tear on abrasive metering valve
Simplified and cheaper maintenance

No depressurization when the remote control is released
Reduces compressed air consumption
Convenient for frequent start/stop operations
Even abrasive flow when starting operation

RC-176/186 Double Control System

Offers the advantages of both systems without the compromises
Remote Depressurization Switch
The depressurization switch located inside the abrasive blast booth allows the operator to release the pressure inside the blast pot and fill it up with abrasive media contained in the storage hopper.
This operation can be accomplished without the hassle of leaving the sandblast room and taking off the safety equipment, resulting in increased productivity and reduced downtimes.
This option is available exclusively with Double Control System configuration for Pressure Blast Pots equipped with a media storage hopper.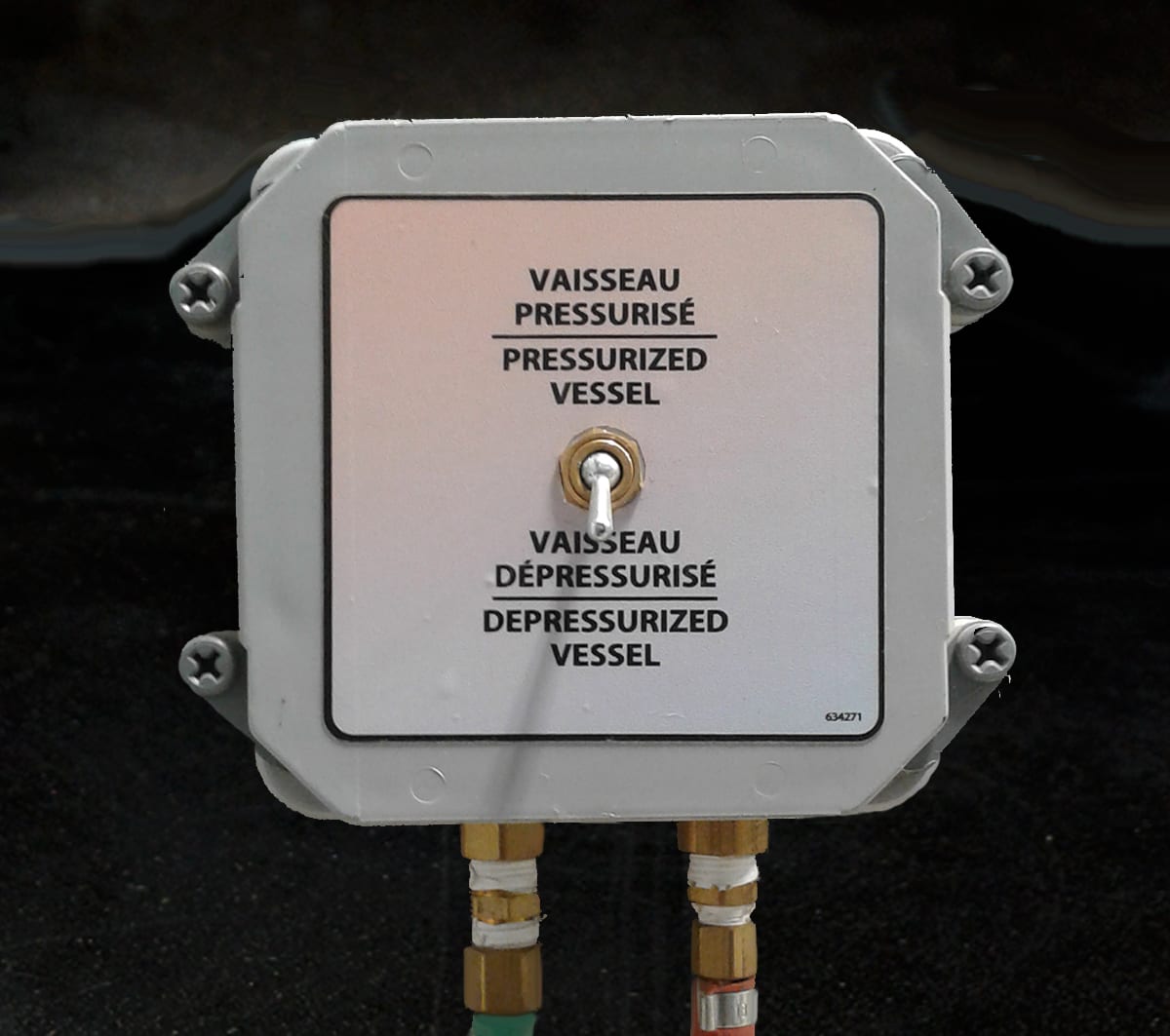 Remote Blast On / Air Only Switch
The Blast On / Air Only Switch allows the operator to cut off the abrasive metering valve and leave on the air valve from inside the sandblast room.
This feature enables the operator to use the blast hose as a powerful air blower producing high-velocity compressed air to blow dust off the workpiece, as well as clean the floor by blowing abrasive media remains towards the floor hoppers.
This option is available at a low cost and results in exceptional productivity gains, along with reducing physical efforts from the operator.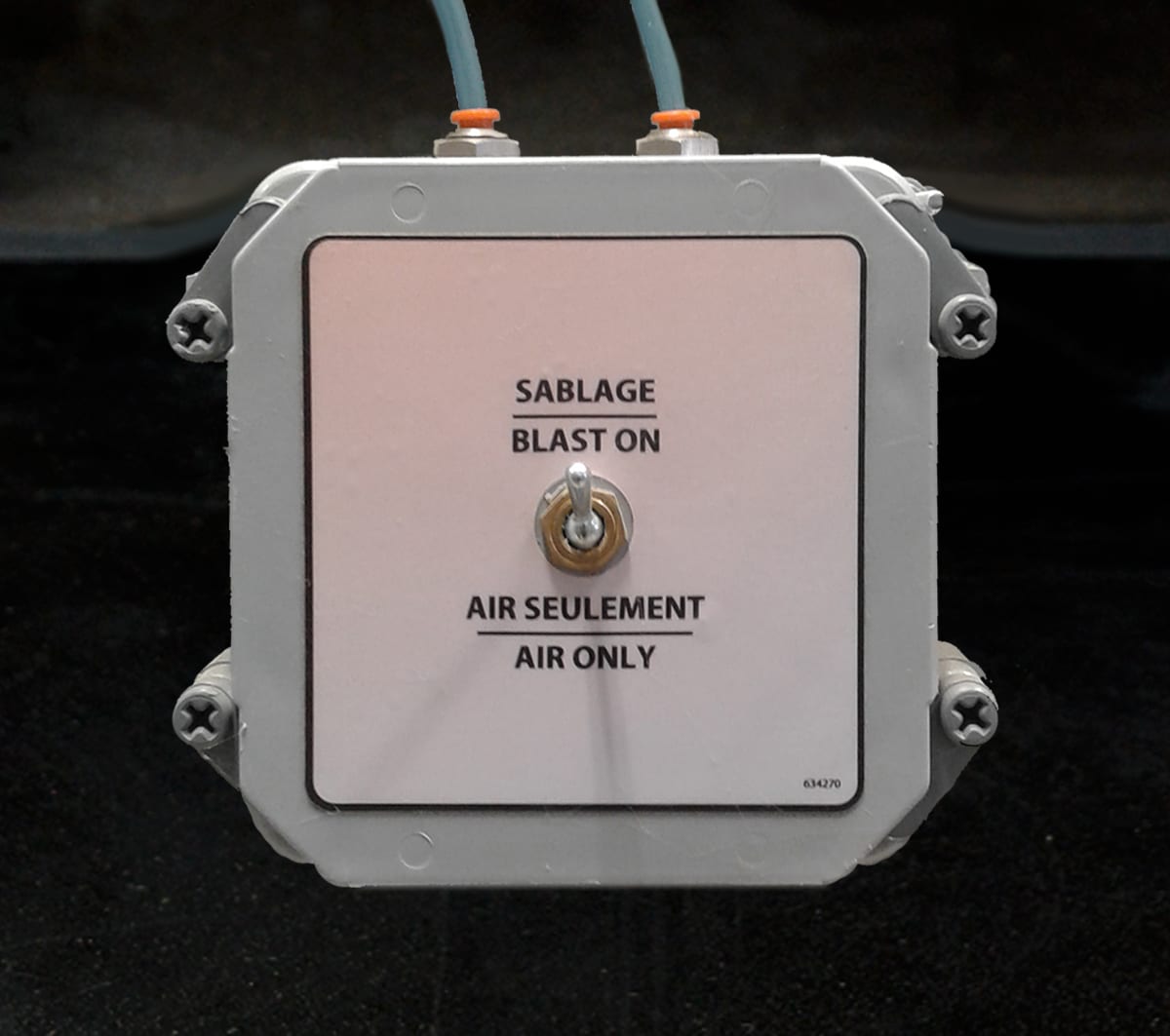 OPERATOR PROTECTION AND SAFETY FEATURES
IST provides various safety features to protect your workers during blasting operations. On top of that, we will train your staff for the proper operation of the sandblast booth to prevent injuries.
Here are a few of the common safety features available.
| | |
| --- | --- |
| | |
| Emergency stop pull cord accessible all around the blast room | Emergency stop button on main control panel |
| | |
| Door Safety Devices that shuts off the blasting operations when a door opens | Illuminated Emergency Exit signs on each personnel man door |
| | |
| Air filtration and monitoring devices to supply Grade-D breathing air to the operator | Blasting respirators equipped with head protection and comfort features |
| | |
| Strobe light and audible alarm system when CO is detected into the air-breathing line of the operator | A choice of ultralight or durable leather blast suits and Kevlar stitching gloves |
An air manifold featuring single point connection of compressed air is available to simplify the connection with pneumatic subsystems – breathing systems, air regulator for pressure pot, air regulator and gauge for dust collector, etc. We also offer various layout configurations and airline filters to ensure only clean and dry air is supplied to all subsystems.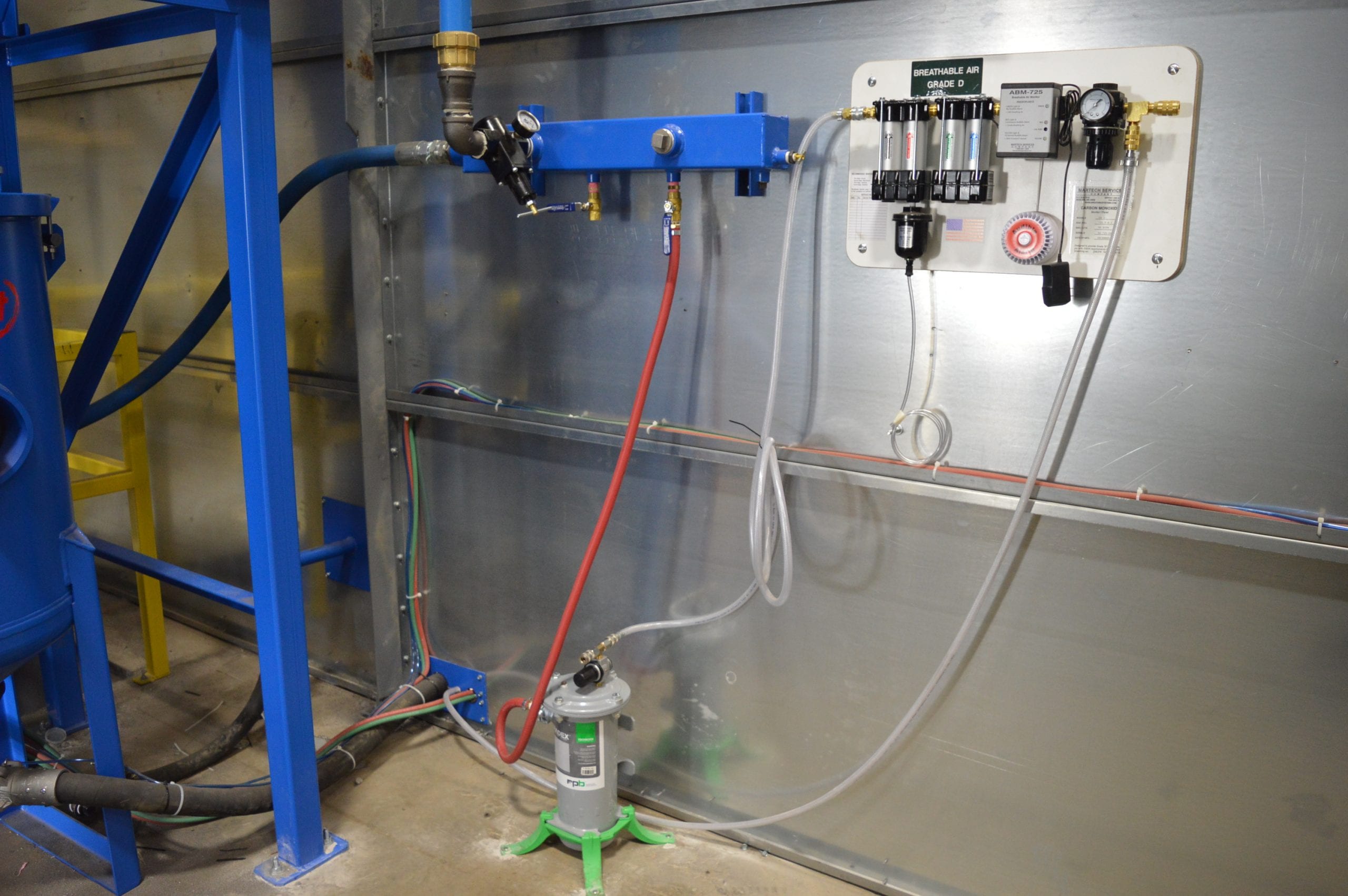 KEY BENEFITS OF ISTBLAST SANDBLASTING BOOTHS
The main benefits of blasting in a sandblast booth are:
Increased Productivity: Allowing you to blast indoors 24/7, regardless of outdoor weather conditions, in a very controlled environment. Also, providing a better process integration with pre-and post-processes such as the application of coating and painting without exposing your parts to harsh conditions that may deteriorate their
Enhanced Process Quality: No cross contamination due to humidity, rain, or other foreign particles. Also, the blasting equipment, including the nozzle, remains in optimal working condition.
Economical Process: Most popular abrasives – such as glass beads, aluminum oxide, steel shot, and steel grit – can be collected from the floor, restored, and recycled for further blasting operations. Some blast media can be reused hundreds of times before it breaks down into dust, allowing for significant savings.
Operator Comfort and Safety: The blaster can be fitted with the most advanced respirators and air filtration systems that filter and monitor airborne contaminants, supplying the operator with pure, Grade-D breathing air. Air supplied to the respirator can even be heated or cooled for optimal comfort during long blasting operations.
IST Care Preventative Maintenance Program (PMP) – The IST PMP program provides four certified IST Technician visits to keep your system in top running condition and avoid unplanned maintenance downtimes for two years following the installation. The purchase of a PMP program also extends the standard 1-Year warranty to an extended 2-Year warranty in order to guarantee the smooth running of your systems and avoid unplanned expenditures.
WHY DO BUSINESS WITH IST?
IST is a well-established blast booths manufacturer with over 40 years of experience in the design and manufacturing of abrasive blasting equipment.
What sets us apart from the competition is our ability to provide custom design and fabrication services to suit your available production space and budget, as well as turnkey blast booth projects where we assist our customers through all key steps of the acquisition of their blast booth. Furthermore, our abrasive blast booths are skillfully designed to minimize the cost of maintenance by opting for standard components that can be found around easily.
Custom Design and Fabrication Services
Thanks to our field experts and skilled engineering team, we are able to offer unparalleled flexibility in your sandblast room design, dimension, size, floor layout, auxiliary equipment, and construction. Depending on your production capabilities, we can either provide a complete turnkey solution or equipment and technical support to guide you in the self-manufacturing of your room or upgrade of an existing room.
Whether or not you are able to excavate in your building, we have a solution that will maximize the performance of your blasting system, taking into account any technical limitations you may have. We have an extensive record of manufacturing very large blast rooms or, oppositely, relatively small and confined booths for a variety of applications.
We can also increase your blaster's productivity by recommending innovative features such as a depressurization switch to allow the blaster to fill up the pressure pot without leaving the room, a head and/or hose auxiliary light for better visibility, and articulated lifts to work at heights.
Turnkey Blast Booth Projects
We can provide assistance through all stages of your abrasive blast booth acquisition – from the recommendation of the ideal blasting process for your application (abrasive media to use, pressure at the nozzle, etc.), to the design and fabrication, installation, and startup of your sandblasting booth, and of course, a one-day training of your production and maintenance personnel free of charge.
Depending on your staff and your experience with the implementation of a sandblast booth, we offer various installation options ranging from full installation handled by our qualified technicians to installation and start-up supervision at a much-reduced charge.
We also partner up with industry leaders to provide the best safety equipment required by local jurisdictions including blast suits, head protection, and respirators, as well as air supply, monitoring and filtration systems.
Lower Cost of Operation and Easier Maintenance
Our blast booth systems are cleverly designed in order to minimize wear and tear on critical components, reduce downtimes, and facilitate maintenance. We use only direct drive motors and high-quality raw materials designed to withstand harsh industrial environments.
All processes are controlled by a PLC and interfaced by a HMI touch panel. The screen will also tell you when it is time to perform maintenance and calibration on critical components.
Our blast booth systems are also delivered with detailed instruction manuals, laminated cardboard to leave on the field, and maintenance routine checks that fit perfectly with your preventative maintenance program.
CONTACT ONE OF OUR EXPERTS TO HELP YOU CHOOSE THE RIGHT BLASTING SYSTEM FOR YOUR NEEDS.